I am on a rose kick this week! Roses are such popular flowers and subjects for artwork due to their beauty and elegance – and having a pleasing fragrance helps the real flower's popularity in bouquets. While I have drawn and painted single roses, I had not yet tackled drawing or painting an entire bouquet of roses. This is in the process of changing, courtesy of my recent experiment with text-to-image software and digital art.
Everything is coming up roses
Sprinkled in among the three new rose bouquet computer-generated images will be blogging friends' posts featuring roses in artwork in various media. I also wish to note that new hand-drawn and hand-painted art will be created and posted within the next month – before I talk to my Mom again on the phone. Yesterday, she did not beat around the bush or try to sugarcoat her opinion when she immediately asked me when I plan to get my paints back out and make real art instead of playing around on the computer and posting that. Mom knows how to use a clue-by-four!
Pink roses
It should be no secret that pink is my favorite color. So of course the first bouquet of roses I prompted the software to generate was specifically pink. No modifiers, just "bouquet of pink roses in vase on table," if memory serves me correctly.
This was only the second image I prompted the program to create, and I felt pretty lucky to get something that looked correct. Being a digital image, there is no original artwork available, but you can get art prints from my Pixels store. If you prefer to wear the art you buy, then take a look at my RedBubble shop options for this image.
If this is not enough pink roses for you, you can always take a look at Tatiana's Spanish rose, a close-up photograph with enough detail the little ant on one of the rose petals is in clear focus. She found this pair in a garden in Andalusia, Spain. And on the subject of pink rose petals, Sharon Cummings beefed up her description of her rose petal mandala artwork at my request. (Sharon recently won a spot on one of Fine Art America's billboards, and they even put that one near her in Tampa.)
Red roses
Red roses will be very popular come mid-February. While this won't win me any points with the independent florists, I think it would be better to gift your Valentine with a rose that won't wilt – in the form of artwork! Here is another lucky combination of text prompt and random number from the computer program that features red roses.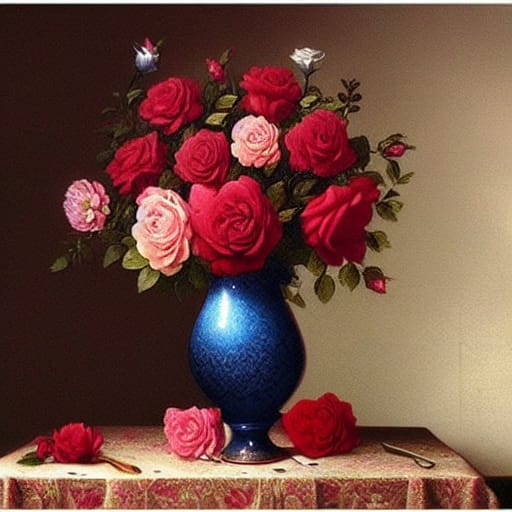 Buy your art prints of this beautiful bouquet through my Pixels store. Get your apparel and accessories with this image at my RedBubble shop. Again, being digital, there is no original painting or drawing available (yet).
If you need a little assistance getting into a romantic Valentine's mood, check out Steve Heap's flower photography where he revisits a red rose bouquet he had waiting with champagne for his wife's birthday in 2012. He does his own version of digital art by using software filters on his photography.
Bouquet of multiple colored roses
In the process of searching for just the right set of modifiers for my text prompt, I noticed two that just go together like chocolate and peanut butter: romanticism (the art movement) and …. Thomas Kincade. Seriously, that would be how I would describe Kincade's painting style in just one word. No "neo-" prefix, but straight up Romanticism. While he did mostly landscapes, I feel that soft, lovely style is best suited for floral artwork. When I did not specify which color of roses I wanted, I got this lovely image.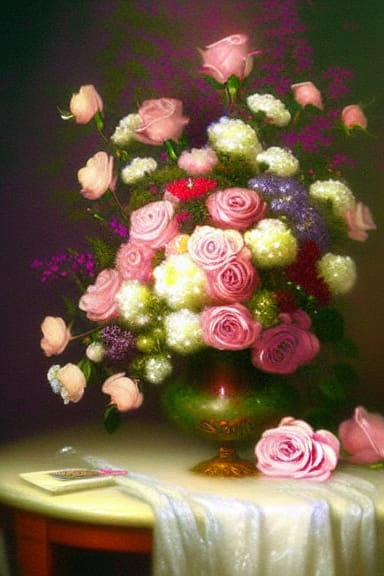 I must admit, I like this one. Not only because the notion of time-shifting Thomas Kincade back to the Romantic period of European oil painting and having him paint flowers appeals to me. Except for that odd but of red in the middle of the bouquet, this may well be the closest that computer program has come to generating the image in my mind. I may break out my oil paints and try this one myself (but after I do the yellow roses in pastel).
Meanwhile, if you want this classic bouquet of roses as an art print, get it at my Pixels shop. If you want it on a shirt or accessories for you home and person, it is available at my RedBubble shop. Again, no original of the digital artwork.
Finally, if you are in search of a perfect rose, Jim Hughes believes he has taken the perfect photograph of a perfect rose. The technical details sailed right over my head, but I do think that is a very good portrait style photo of an elegant rose. Be sure to read the backstory on said rose as well.
I hope all y'all have enjoyed this virtual cornucopia of roses in artwork! It may seem early to be thinking about Valentine's Day flowers, but I want to be ready for 2023.