First, believe it or not, this is a computer-generated image. I've been working for a while on trying to get some classic floral still life style images from the text-to-image software I've been playing around with, and after exhausting a certain look, I decided to try some different modifiers to the same basic text prompt.
I'll cover this other style on Friday, but this particular image gets its own post for the simple fact I will be working on doing it by hand in the next week. Even more inspiring to me than the Sunset Palms image, this is a simple but elegant floral still life composition of a bouquet of yellow roses in a purple vase, sitting on a wood table. It is the complementary colors that make this idea pop.
Inspiring digital artwork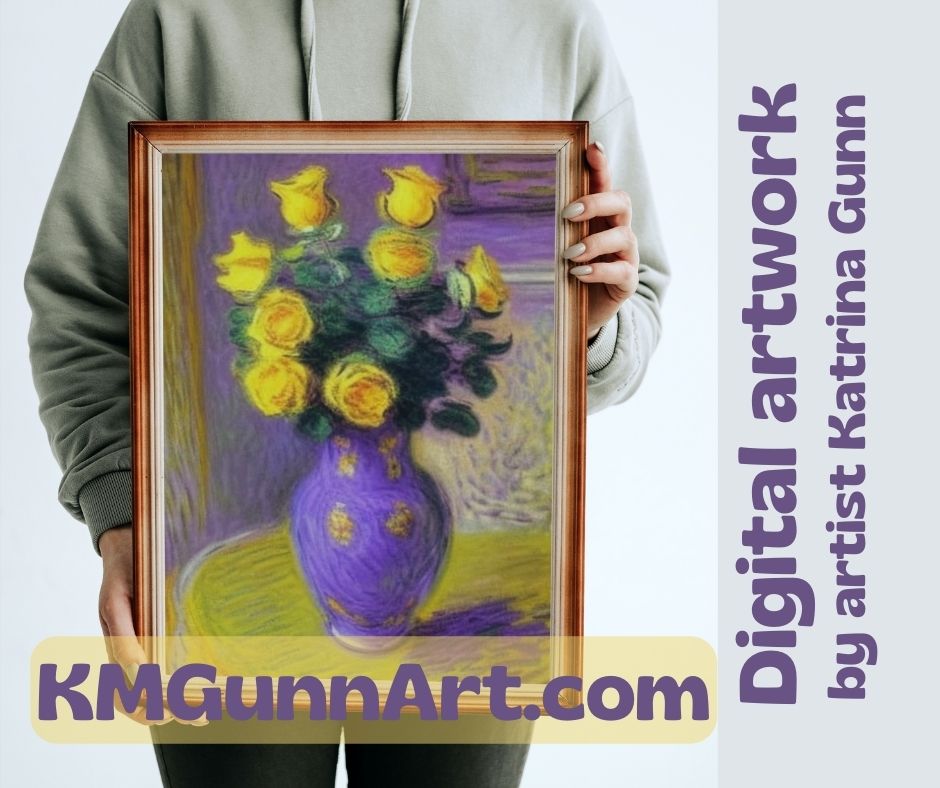 But first, the important links for print products to buy. I have it on most products at my Pixels store as well as art prints. It doesn't looks right on objects where the printing is horizontal in orientation. I recommend getting art prints from there because Pixels is owned by Fine Art America, who are big in the art print world. For those who enjoy wearing artwork, I recommend my RedBubble shop. My sister and mother both recommend them and are repeat customers.
The search for a good rose image
No surprise to long-time blog followers here, but I personally love yellow roses. I've been trying to paint or draw the "perfect" yellow rose piece since the day after I picked my art back up, and I have a couple watercolor paintings I did one to two years ago – Electric Yellow Rose and Yellow Rose. (If you buy the originals, you can rename them. I don't try to be cute with what I name my artwork.) While I've played around with the idea in pastel and colored pencil, I have not accomplished anything I want to share. I think part of that is a matter of finding a good reference photo for it, because buying a nice bouquet of roses in a pretty vase each time I want to paint or draw would get rather expensive.
Enter the text-to-image digital artwork idea
So, what does an artist who lives on her veterans' disability pay do in this situation? Well, I gave in to curiosity about the whole text-to-image software that so many people misname "artificial intelligence." It is not intelligent. It just generates images based on your text prompt plus a style filter and any modifiers you use from the lists of phrases that will get you certain looks.
First, I tried the basic text prompt "bouquet of yellow roses" without any modifiers, and got a bunch of images that more-or-less fit that. The biggest variation is in that hard-to-define quality of composition. One was good, while the rest were mediocre at best. Here is the one I liked best.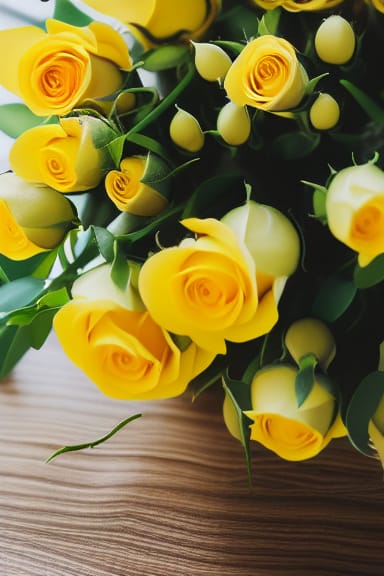 Using modifiers in the text prompts
Not completely satisfied with this, I began to experiment with different modifiers to see what kind of image style I could get from which modifier. Some modifiers are specific art movements; some are specific artists' names (and some of those are still alive and still painting), and others are descriptions like "dynamic lighting," which is one of my favorites. No "chiaroscuro" or Edgar Degas, though my favorites are romanticism and Thomas Kincade, a combination that makes some very pretty images that don't have much variation.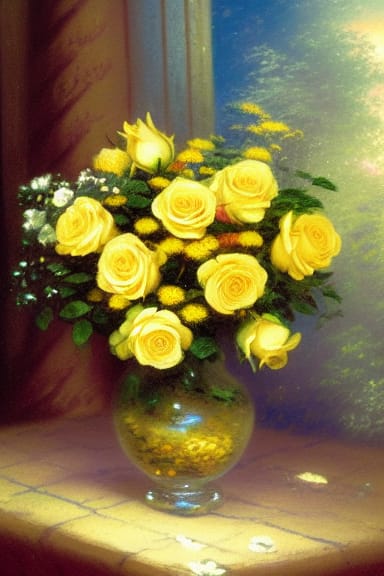 Another style modifier I tried was Renaissance painting, which certainly has that feel to it, and I may experiment with that style further, but first I wanted to see how well (or how poorly) the software handled the idea of simulated pastels. These are soft pastels, not oil pastels, and I was disappointed to not find any famous pastellists in the artist list like Edgar Degas or Mary Cassat. Fellow Impressionist powerhouse Claude Monet was on the list, so on a whim I used his name along with pastels as the "medium" used and Impressionism as the style. I also specified the color scheme as yellow and purple. Here is the four-pack of images generated: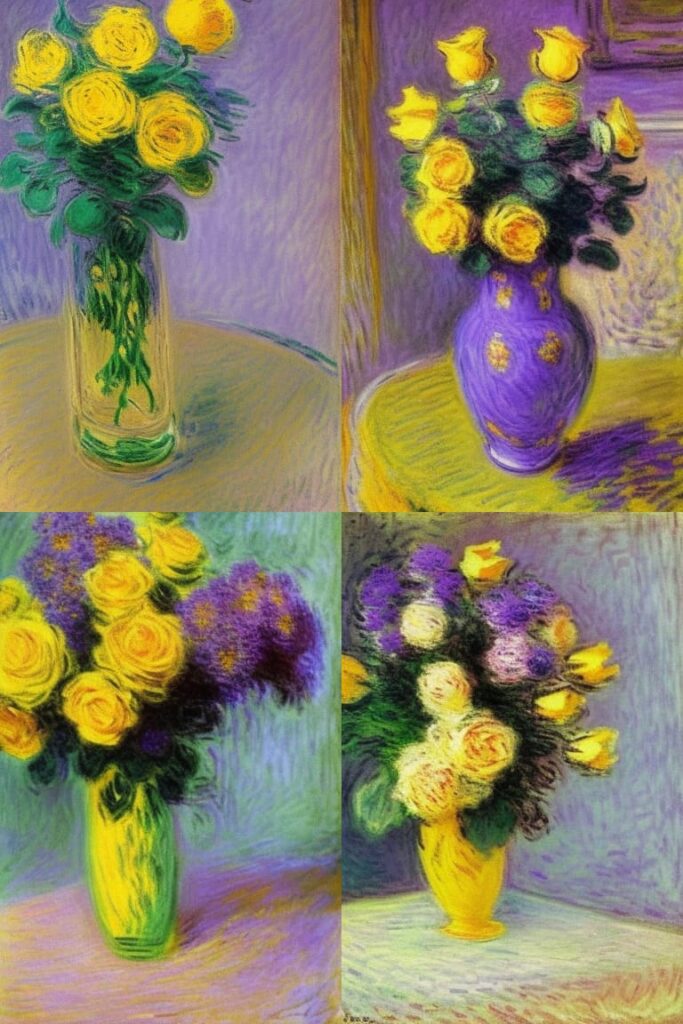 A bit of variation here, and while the first image is nice enough, it's the second one (top right) that has captured my imagination. It is so close to being good! I think it is just missing that tiny little bit – perhaps toning down the background colors to make the focal point more attention-grabbing. I'll also be tweaking that table, perhaps more of a tan than yellow, so it looks more like oak (like the image above).
Bouquet of Yellow Roses in a Purple Vase
So that is the development of a vague idea, "bouquet of yellow roses," into a piece of digital artwork that you can purchase and I can use as a springboard to create my next work of art in pastel. I am thinking of giving my soft pastel set a proper workout for this, with details added in with pastel pencils. Until then, have a pleasant Thanksgiving week, and watch this space for a new Feature Friday.