After a week's delay, we are now doing our holiday edition art walk all weekend on our blogs. That means I will edit this post as more folks find the time to add their blog to the art walk, so check back here in a few days and you'll likely find even more posts from art bloggers listed!
Architectural photography
First up is Rebecca of Beyond Essential, with her stunning captures of wonders of the Old World, in particular Istanbul's famous mosques like the Hagia Sofia, the Blue Mosque, and (a new one to me) the Basilica Cistern, along with the archetype of the mountaintop monastery, Meteora Monastery.
A Cityscape photo and some opinion
Jim Hughes seems to be trying to cultivate a curmudgeonly reputation in regards to the big hype over digital art software, in particular the text-to-image generators. As a photographer, he asks the valid question of "What is left?" in the wake of so much computer-generated imagery. I certainly agree with him, and see the same question needing answers on the more traditional art side of this equation as well.
Interlude for an image
This being an art blog, every post ought to have some kind of image – drawing, painting, doodle, etc. Here is that poor jack o'lantern I am still working on from October. It's a little bit further than this scan because I did work on it for two appointments in Gainesville, which is roughly a two hour drive each way.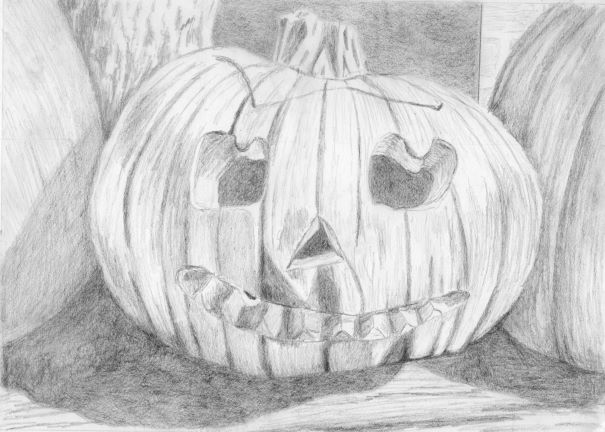 Nature photography
Bob Decker left the comment on one of my first post about the text-to-image software saying he does not see himself trying it out because he loves to go out into the woods and get his own images. He then demonstrated by taking a hike and bringing back some lovely photos of the Cape Lookout National Seashore area of the Crystal Coast, and even tells us a bit about this secluded slice of nature in his area of North Carolina.
Almost Heaven – West Virginia
Steve Heap says his part of West Virginia had an absolutely beautiful autumn season, with gorgeous fall foliage colors and perfect weather for photography. Despite going a round with the RSV virus, he managed to get enough good photos from around Morgantown (where he is based) to put together an entire year's calendar of fall foliage photos for 2023.
Digital art posts to resume in a few days
I will be continuing my series on my successes and humorous failures using the text-to-image software to make a bit of digital art next week. Looks for the first of the floral barrage to commence Monday or Tuesday. Meanwhile, I offer my first two posts on the subject – my introduction and new avatar/internet face as well as my Christmas digital art for those who may have missed them.