I am in Florida, and we got lucky with the named storm that blew through here. Actually, it didn't fully blow through as it shifted south. Knowing I would definitely lose my internet access (we are on satellite), and possibly even electric power, I decided to assign myself some hurricane homework for my offline time. I decided it is time to work on my artist's statement. I do have a simple starting artist statement: "I make art to bring some beauty into this world," but I feel I need to expand on that.
For the past couple years – since my husband persuaded me to get back into art – I have just made art that makes me happy. Some pieces have succeeded quite well (see this year's entries into the regional VA Creative Arts Festival) and some I think I need to redo them better, but I picked up a series of articles on crafting a personal vision statement that I printed out and read through while hiding in the house from wind and rain the past couple days.
Vision statement series overview
This series of blog posts or emails breaks down what a vision statement is, why it matters, gives some examples of personal vision statements (including a couple from famous people), and then walks the reader through a four-step process of crafting a vision statement. It's quite general, since it was written to be broadly applicable, so I intend to work through it here on the blog so anyone who wants to can come along for this small personal journey. I will of course be applying it to the concept of an artist's statement, which is the lens I am viewing it through, but this can be used in any context.
So what is a vision statement and how is it different from an artist's statement?
Generally speaking, a vision statement is a tool used by business and organizations to convey their mission, values, and goals succinctly to employees, shareholders, and other parties. It also helps guide decisions to stay in alignment with the overall purpose of the business or group. A personal vision statement – which this series of lessons is focused on – is using this idea on a personal level to focus on goals and values. Sometimes this will include a purpose in life or a desire to leave an impact on this world as your legacy.
An artist's statement is a more-narrowly defined vision statement. I received a great email on the subject back in the spring from Inside Art, but apparently this is another email-only article. I've emailed the author to ask if he'll post it so everyone can read it, but two very short quotes will get today's idea across: "An artist's statement is a paragraph that introduces viewers to a body of your work," and "Your statement is actually crucial to how art professionals understand, talk about, draw attention to, and attempt to generate interest your work." If you stop and think about that for more than a minute, you begin to realize that is some serious and heavy lifting for just a sentence or two!
So this is what I am starting: a series of blog posts about crafting a personal vision statement and/or my artist's statement. I'll know later in the series if I am doing one or two statements as I work through the steps. I am inviting all y'all (that's the plural) to join me in this endeavor, either as a fellow participant and traveler or just as an interested spectator. I am happy to share the process here, as it often helps me to get feedback.
Artwork still in progress
The other thing I intended to work on during the storm was this sketch that I started earlier in the week, only intending it to be a simple line sketch to transfer to my watercolor paper to paint. As I was working on it over the previous weekend, I realized I am enjoying the drawing process so much I just keep going on with it. There are two main limitations to my drawing time, and both are cats in the house. They were both all about cuddling my lap for their comfort while the wind gusted and the rain fell. Here is where I am still at as of this morning: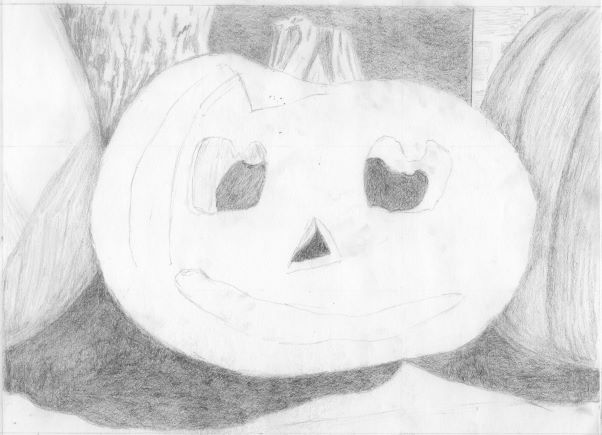 Behind the storm, we have cooler temperatures and now the sun has even come out with a lovely cool blue sky that reminds me of the watercolor painting I did last December call Make Hay While the Sun Shines. My mom loves the title of this painting, as her parents used this phrase a lot when she was growing up (Grandpa was a farmer all his life) though Mom says I put "too much" sky in this particular piece. I told her that is how it feels down here on a cloudless day.
We didn't even need to run our generator yesterday because we only lost power from midmorning to midafternoon, so the gas in the fuel cans will likely go into the truck's tank. Here's hoping this is our only late-season named storm for the year.