So I finally have a photo from Whitney, who won the June 2022 frame giveaway, with her face and her prize both in frame. She says she loves it. It may not be big – the frame holds only a 4 by 6 inch picture – but she can always look at it knowing she won the frame and was able to request a ladybug painting to go in it.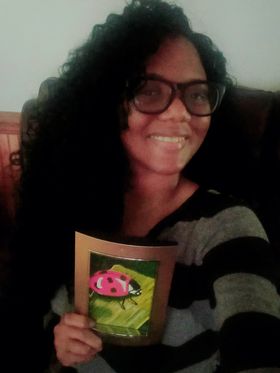 Planning and painting the ladybug
When Whitney entered the giveaway, she had said she wanted some kind of pretty plant – her exact phrase was, "Surprise me!" Once I messaged her to let her know she had won, she changed that to ask if I could paint her a ladybug, as she wanted to use a ladybug as part of her logo. Not a problem, as I already had a reference photo selected for when I got around to doing up some more pretty bugs in my art.
Ladybugs are not complex objects; in fact, compared to butterflies and dragonflies, they are really rather simple until they open their wings. I expected the trick for this painting to be more about getting the blade of grass right, so it looked curved with just the right amount of texture to it.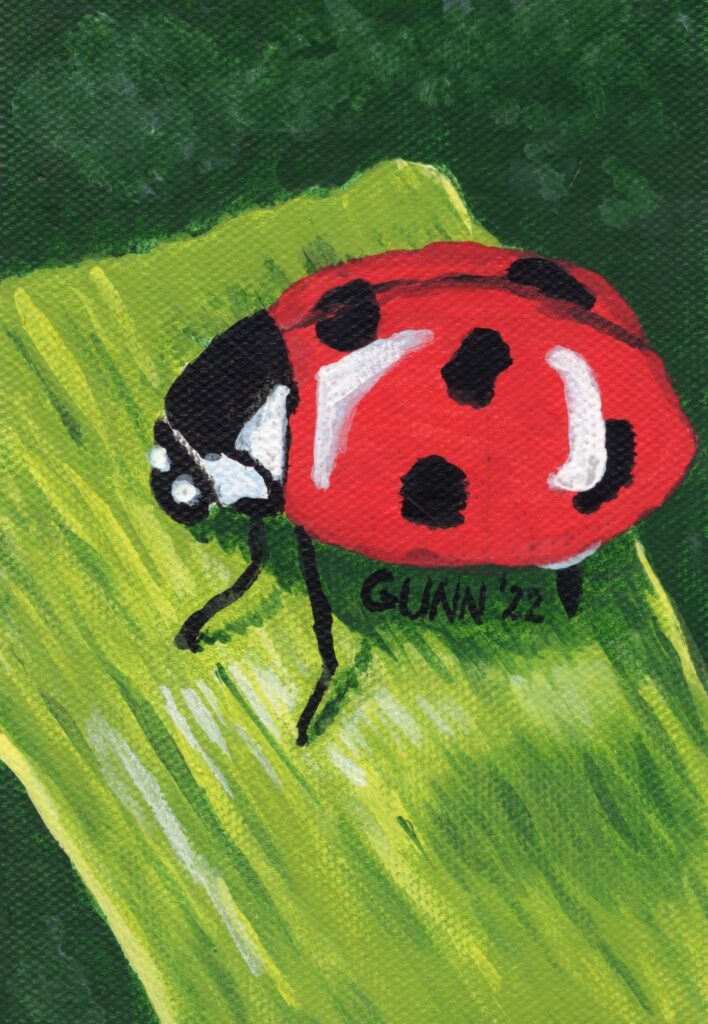 The canvas is from a 6×8 inch canvas pad by Paramount, and seems to have a smooth-enough surface up until I did a bit of drybrushing, then the texture also showed up in the scan. I used the quick-dry acrylic paints that my husband has used for years, and are sold at WalMart under the names Apples Barrel and Folk Art, made by Plaid who also makes Mod Podge that I use to seal my oil pastel pieces. I painted two layers, and thought that was sufficient to cover the graphite pencil lines … but if you look closely at the scan you can just see them on the ladybug's carapace. I need to remember to do a minimum of three paint layers for the next one.
Art prints and accessories for sale
The original painting was put into the frame and mailed off in a timely manner – Whitney probably doesn't realize how significant that statement is. The point is, if you want the original, you'll need to try to talk her out of it. Personally, I have my doubts anyone will be able to do that within the next decade. As usual, art prints are available to purchase through my store at Pixels, along with a few printed accessories. If you want to wear my art, then check out the apparel options at my RedBubble store.
About Whitney
In addition to being mother to small children, Whitney runs the online business Healing Over Everything. We met on Facebook in a blogging group we both participate in, and she asked for links to her Facebook business page. So, you can check out her Healing Over Everything page on Facebook, and maybe even check out her blog (which I am working on a guest post for).
More pretty insect art from me
If that is not enough bug art for you, Tatiana at GiftSmart has a cute macro photo of an insect on a green leaf that does look like it is laughing.