Yesterday was the first of October, but it didn't really click for me until I ran into town to pick up some critter feed and saw a couple of businesses with the flocks of plastic pink flamingoes: October is breast cancer awareness month, and locally that means it's time for Pink-Out Putnam again. Local participating businesses will not only decorate with the standard pink ribbons, but since this is Florida it means there will be a population explosion of those wonderfully tacky plastic pink flamingo yard ornaments.
Along with pink being one of my favorite colors to wear, and flamingoes being one of my favorite birds to paint, there is a darker personal connection for me. Both of my mom's sisters and my dad's surviving sister have all gone through breast cancer diagnosis and treatment. Thankfully, all three are still alive to tell about it, but having women on both sides of my family get diagnosed leaves me at a higher risk of developing this myself. (For the record, my appointment for my next mammogram in early November. VA healthcare system takes this seriously.)
My pink flamingo watercolor series
Last year, I did a series of six watercolor paintings that featured flamingoes in or near water as part of an art challenge, which included my first place winning Flamingo in Rippled Water. I'll be taking the series to various local businesses to see if any new small mom-and-pop places would like to display them.
Pink flower paintings
Pink flowers are also on my list of favorite things to paint, and I have some of those to share for this very pink post. I did a cherry blossom watercolor painting this spring, actually a little earlier than they bloomed, but it is very much an annual thing and I love to see photos and paintings of them in March. I also did two pink rose pieces last year: one in watercolor and one in oil pastel. Gathering up the links for this post made me realize I have not yet blogged one of my pink flower paintings yet …
Pink Hibiscus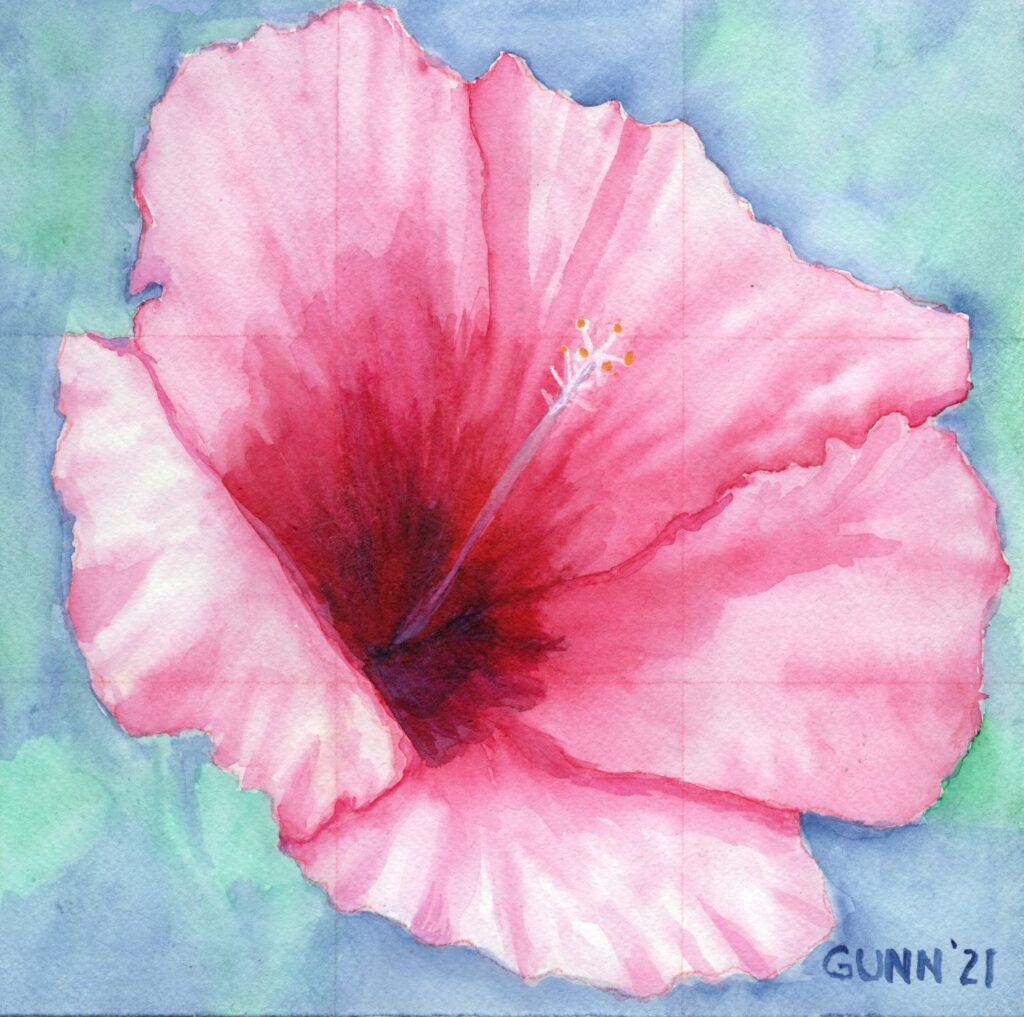 First things first: yes, if you look closely you can see the grid I used for sketching the proportions out properly. I had used a red watercolor pencil to do this, thinking when I painted over it would dissolve. It was a lesson learned. Not all pigments in watercolor pencils will disappear with regular application of water. I should note that this was the last time I did my grid-and-sketch directly on my watercolor paper. Now I sketch in one of my sketchbooks and use graphite transfer paper to make my marks on the watercolor paper. The punchline here is that people who see it don't seem to care. Feedback on this paintings has always been quite positive despite the graphite outline and grid lines showing. I guess folks feel that shows this was painted by a person and not a software program.
Purchase info so you too may "Pink Out" like Putnam
Along with overlooking this piece here on the blog, I had also forgotten to upload it to my gallery over at Daily PaintWorks, which is the online venue where I prefer to sell my original artwork. This has been rectified. I had also forgotten to upload it to my RedBubble shop, but I fixed that as well now, so those of y'all who want your RB swag with this painting can have at it. Finally, for those who want an art print larger (or smaller) than the original 10 by 10 inches can order it at my Pixels shop.
So pick your favorite pink painting for Breast Cancer Awareness month. Please feel free to share this post, because this is an issue that has affected my family … and perhaps yours as well. My county will be decorated to the nines with pink ribbons, pink signs, and of course plastic pink flamingoes everywhere, and I invited everyone to join us! I have at least one new pink flamingo painting in my mind already, so stay tuned.