Feature Friday is back, and with a new twist this time. This week, we've all made a post of our personal favorites from our art portfolios, and today that is what we will all be linking. The inspiration for this is something art galleries do in the physical brick-and-mortar world, the art walk. In between links, I am posting some floral snapshots from before the hurricane with the story behind the flower at the end.
The art walk downtown
Going back to when we lived up in Clarksville, Tennessee, the downtown art galleries got together on the first Friday of the month to host an art walk after normal business hours. Along with being open in the evening, most of the galleries also had small refreshments available, and some would arranged a themed display when the artworks in their gallery had one. In particular, I remember one when my husband was home (as opposed to being in South Korea or Afghanistan) and my son still lived at home, and it was a beautiful late spring evening when the temperature was perfect and it seemed everyone we saw was in a good mood.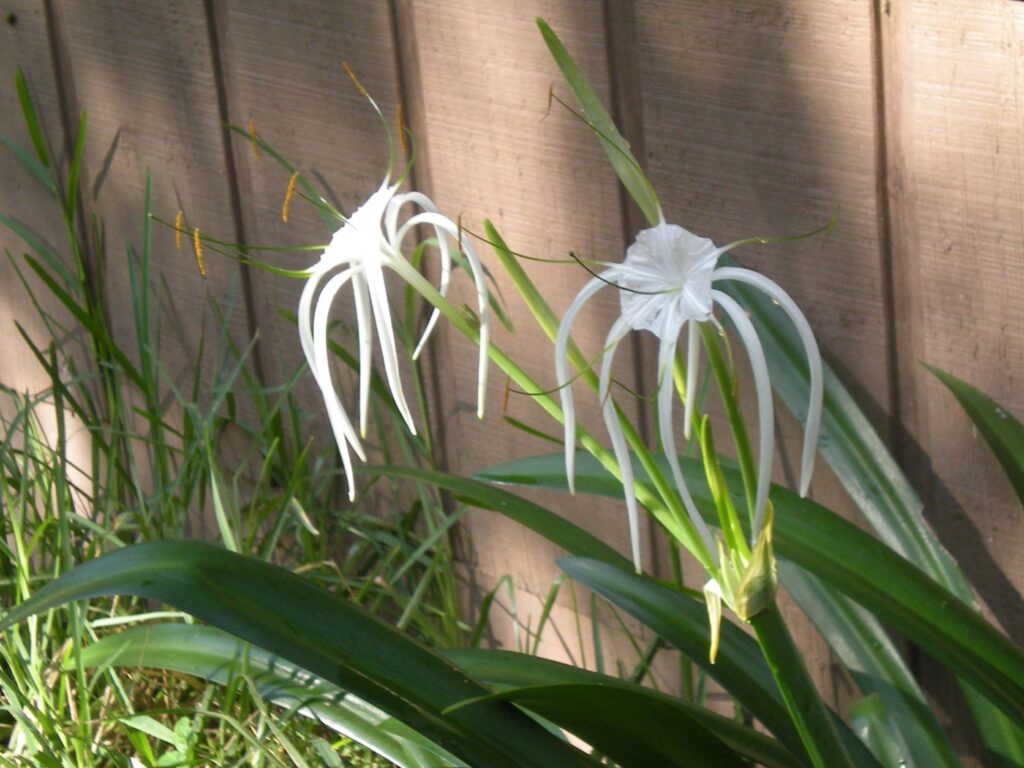 Our virtual art walk
Starting the week off, Jim Hughes posts his favorite photographs from his portfolio. His main criteria for this list is: he had a plan, a mental image, then a photo. The nautilus shell is cool. I think I like his funky-colored flower (zinnia?) best though.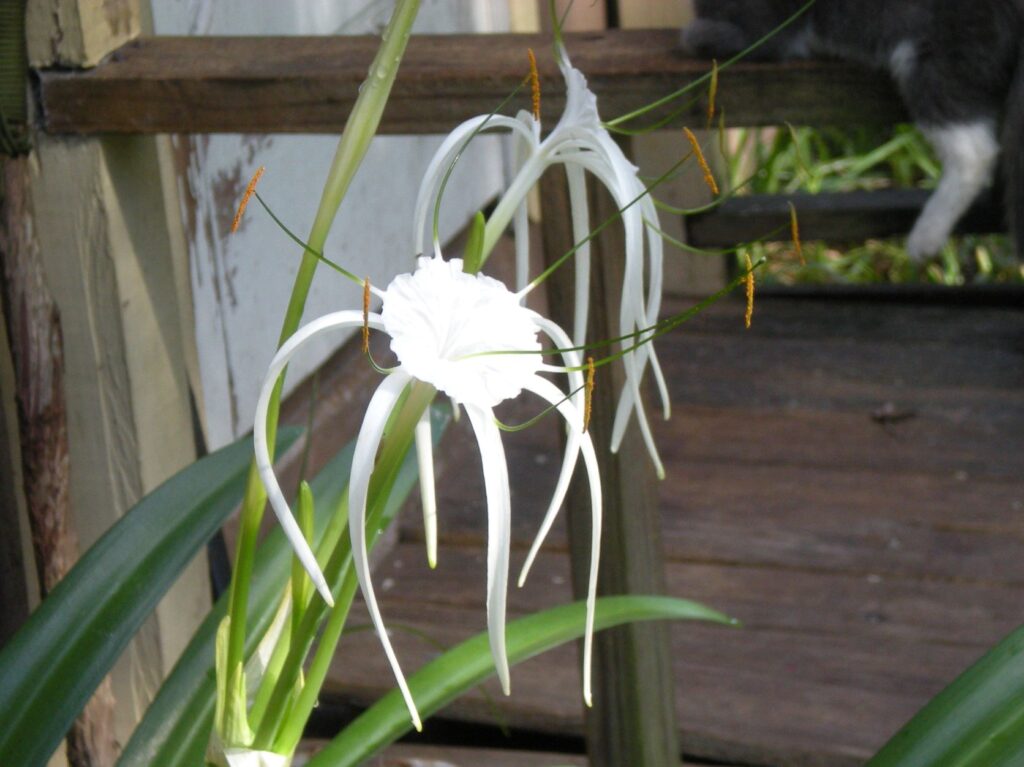 Jo from Siena Blue has posted her recent favorites in watercolor and gouache, along with an acrylic painting and one of her drawings from this year's Inktober, done in ink and colored with coffee. I think I like her seashell best of all, and not only because of the unusual medium.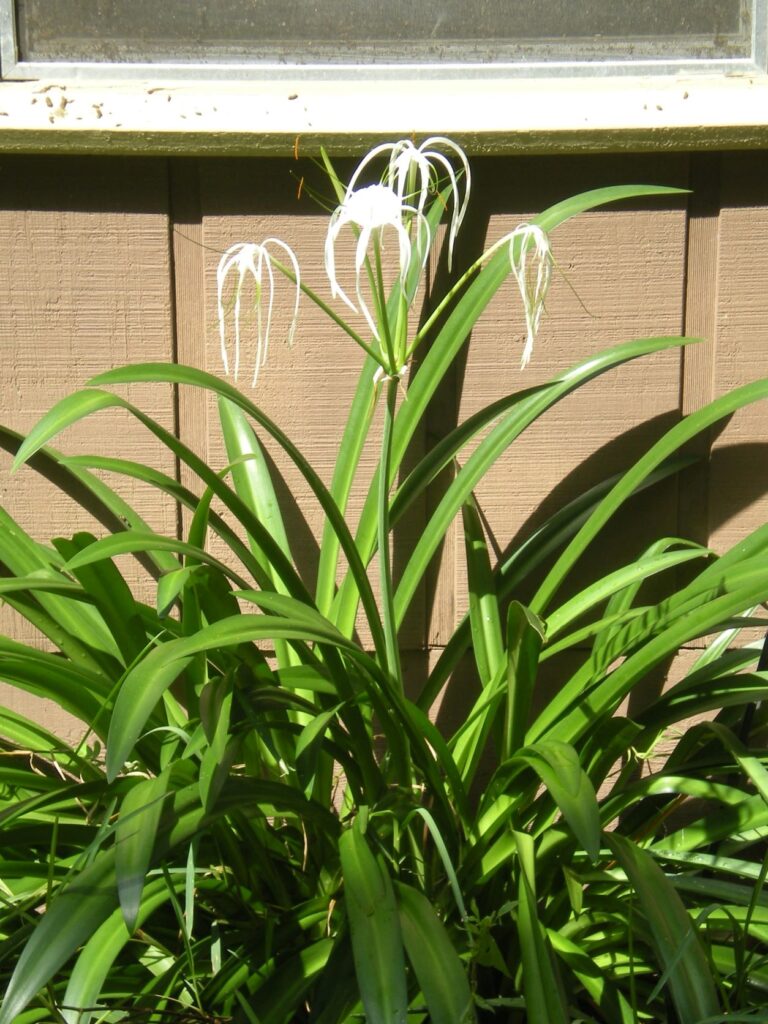 Cannot forget my post from yesterday about which paintings I think make excellent jigsaw puzzles.
Finally, we have Steve from Backyard Image, with his best photos that are not from his back yard. The two that feature the color pink are my favorites – one the cherry blossoms in Washington, D.C. and the other that gorgeous sunset sky from his Alaska cruise this year.
About that spider lily plant
We bought this property in the summer of 2012, spent a week's leave down here in September of the same year, then moved in for good in February of 2013. In the almost ten years we've lived here, I have never seen this plant under my window even bud. I had not idea what it would look like if it did.
Then, a couple days after the autumn equinox, I noticed it was going to bloom.
Once the first bud opened, I knew I had seen pictures of this flower before, and the name that sprang to my mind was spider lily. Yup, a quick search showed I was right … but there are quite a few species that are called spider lily, and most are white like mine, so I began to read which ones bloom in September and I think I have nailed it down to Hymenocallis occidentalis, also called Hymenocallis caroliniana though Wikipedia says this in incorrect while another botanical site says it is. Either way, its common name is certainly spider lily, and the possible reason it didn't bloom until this year is probably because this summer has been very wet. Several of the lookalike spider lilies for Florida says they prefer wet ground, and this may be the first August and September when we got enough rain.
Yes, there is a spider lily painting in my head now. It's just a matter of time before I wrestle it onto paper and canvas.