I enjoy working on jigsaw puzzles, but with three cats in the house that is something I need to do digitally these days. Back when I was a child and we had a cat-free house, we kids would put jigsaw puzzles together on the back of a game board, so they could be moved off the table for meals. Once completed, and after a sufficient time to admire the accomplishment, the puzzles would be carefully taken apart and mixed back up in the box for either the next time or when a sibling wanted to put it together. Given this brief bit of my childhood, is it any surprise I am fascinated by current print-on-demand technology that can put my paintings onto jigsaw puzzles?
Digital workaround
I mentioned my cats as the main reason I cannot do physical jigsaw puzzles, but the secondary reason is flat surfaces in my vicinity just do not remain empty for long enough to put a puzzle together either. Along with the obvious art supplies, I also have sewing stuff and yarn crafts stuff around my desk. Using Microsoft Jigsaw, I can upload up to four of my paintings and have the game create puzzles ranging from extremely easy (only 12 pieces) to very challenging (grandmaster 588 pieces). It may not be as challenging as to 1000-piece physical jigsaw puzzle, but it does keep me amused without taking up space or becoming a cat's toy. The biggest downside for me is that MS Jigsaw limits me to only four at a time. So which four did I upload first? That is why I am writing this post!
I've already started featuring a puzzle on Mondays over on Twitter and Facebook, using my own hashtag #PuzzleManiaMonday, and have shown the "expert" level 196 piece level in MS Jigsaw for the past couple Mondays, so it only seemed natural I write it up into a blog post here.
Goldfish oil pastel painting as a puzzle
The first one I actually tried to use in the game was Book Reading By Candlelight, which has a vertical (portrait) orientation and did not work well. Apparently for their custom puzzle feature, the images need to have a horizontal (landscape) orientation. The second painting I picked to make puzzles out of was my oil pastel painting, Goldfish, which I posted way back when I was still on blogspot and have added to the story of its creation when I moved here to this domain. While it may seem like it would be rather difficult because of all the blue water around the fish's orange and cream-spotted body, I figured the gradient aspect of it would help … and in the process discovered that my gradient is not exact from one side to the other, despite how it may appear.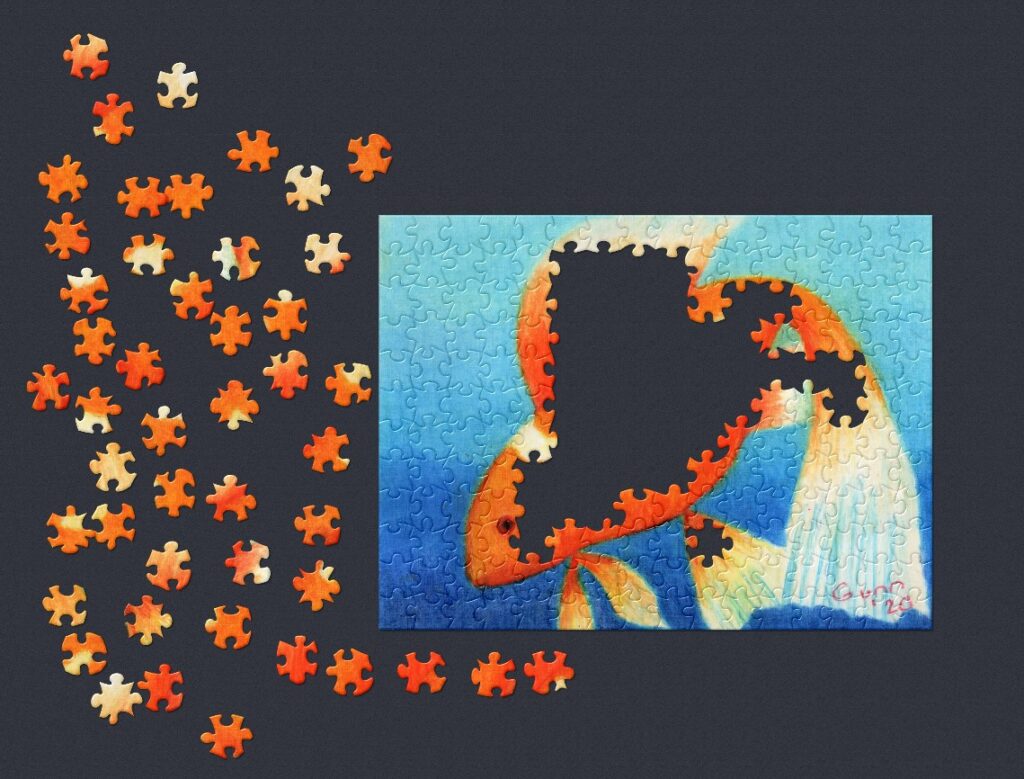 While it may appear daunting, this is very fun painting-as-puzzle to occupy some time and tease the brain just enough to keep interest high. I particularly love to work one of the puzzles while sipping my afternoon mug of coffee. Order your 500 or 1000 piece puzzle from Pixels here, while if you are a RedBubble customer you can get puzzles with as few as 30 pieces up to the big 1000 piece challenges. I don't see this one making that good of a group project, but that could just be a failure of imagination on my part.
Apples sketch painted in acrylic as puzzle
For my second one, I knew I wanted to use one of my apples still life from last November. Between the two, I went with the acrylic paint sketch where I worked to get the red and green variations of the Honeycrisp apple skin. This is a bit amusing, because at the time I painted both, I liked the all red apples version better. This seems to be another case of my opinion of an artwork changing over time (like the ox-eye daisy drawing). Considering I used only about half a dozen colors in this, I think I did better than I originally thought. It makes for a fun puzzle as well.
Pixels customers can find 500 and 1000 piece jigsaw puzzles here, while RedBubble's software seems to not like my image, even the higher-resolution version I uploaded this morning. I may need to fill out a support ticket for that.
Sunset Over the Hay Field oil pastel painting in puzzle form
Another no-brainer for my short list of favorite paintings to turn into puzzles is the oil pastel landscape Sunset Over The Hayfield. I guess my oil pastel work is a bit over-represented in this sample, but how could I NOT play with this image for a jigsaw puzzle? The colors in the sky and clouds are just so much fun to piece together, then the stubble over the mown hay field provides the challenge. Check it out:
RedBubble offers jigsaw puzzles in five sizes: 30 good sized pieces for your young beginner puzzlers, 110 piece puzzles for the intermediate level, 252 pieces for a good one-afternoon puzzle session, and of course the 500 and 1000 piece options for longer more complex challenges. The one thing to watch out for is some of the image options on the website show their software adding sidebars to some sizes – I have submitted a ticket on this. Pixels offers the 500 and 1000 piece options, and seems to have better flexibility on the aspect ratio for images.
Pumpkin Close-Up watercolor painting as a jigsaw puzzle
Finally, my fourth puzzle is my watercolor painting Pumpkin Close-Up, which looks like it could be a real challenge. In some ways, it IS a challenge, but I find it to be an extremely fun challenge. All these autumn colors! All the noticeable brushstrokes! Check it out: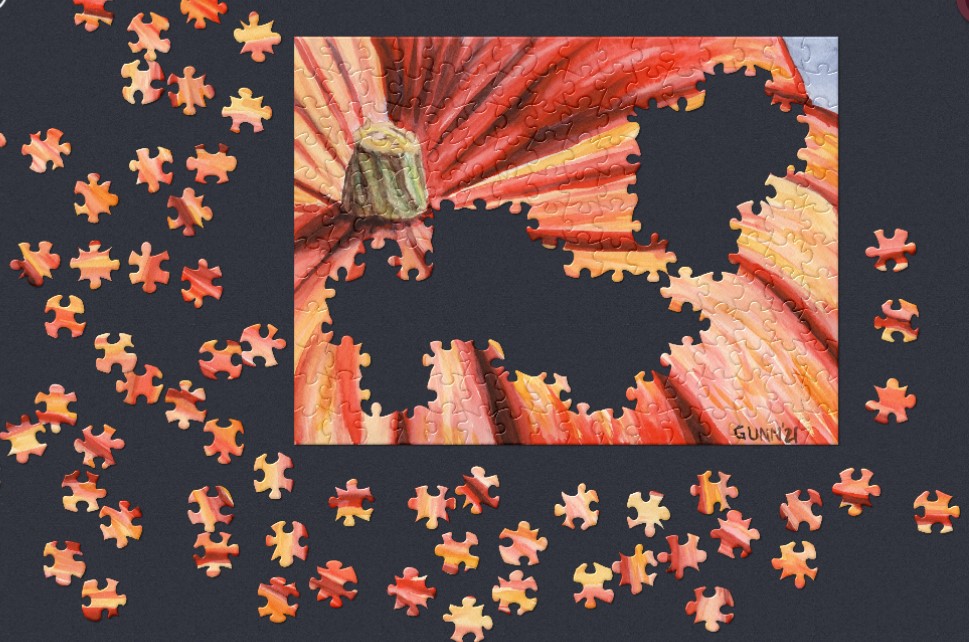 Personally, I say get the really big puzzle for this one. Why not? Just think of the hours of fun, either by yourself for maximum cool points or with family for a rainy day around the table. Pixels offers the 500 and 1000 piece options, while RedBubble has the smaller options for the youngsters that either live with you or invade for holidays.
Come back tomorrow for our first virtual art walk
Why this fun little favorites list? This is the preparatory post for our first virtual art walk tomorrow, October 14th. Come back this weekend for an online equivalent to an art walk, where each of us participating will be featuring our personal favorites from our portfolios!