In the absence of an email congratulating me this year, I had assumed I did not win any places for my entries to this year's VA regional healthcare system's Creative Arts Festival. As of checking the post office box yesterday, I am happy to report that assumption is wrong. All three of my entries this year took either first or second place! Here is the breakdown of my award-winning artwork. Oh, and the medals in the images? Those were in the envelope, and now hang on the shelf next to my desk.
First place award watercolor painting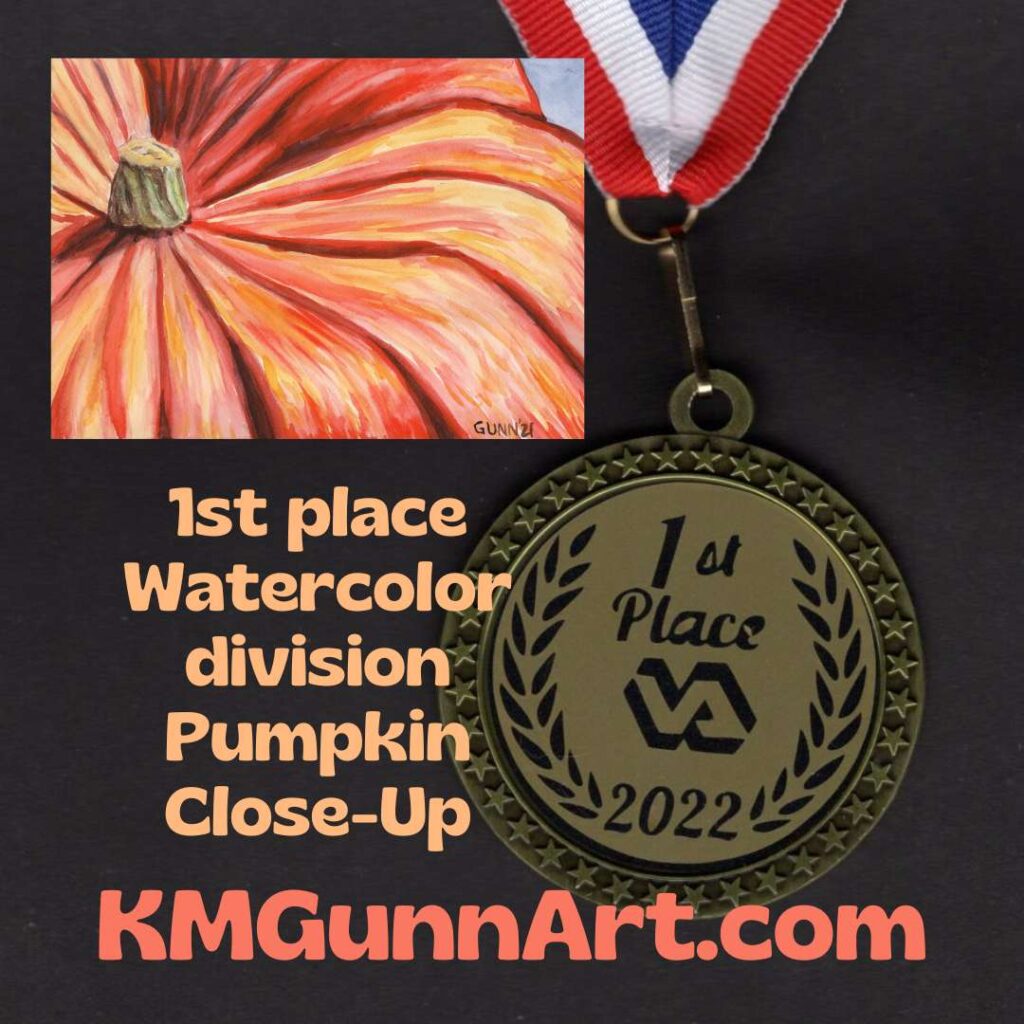 For the second year in a row, I took first place in the watercolor division! Those of y'all reading last year recall I won the first place slot (and advancement to the national competition) with my Flamingo in Rippled Water. This year it is my Pumpkin Close-Up that moves up to national competition – and the original artwork is still available if you would like to hang it on your wall and boast you own a real "award-winning" painting. If the original 10 by 14 inches is just too small, you can order a fine art print large enough to fit most people's walls at my Pixels store. Or, if you want to wear my art like my mother sister enjoy, check out the apparel options at my RedBubble store.
Second place award winning charcoal drawing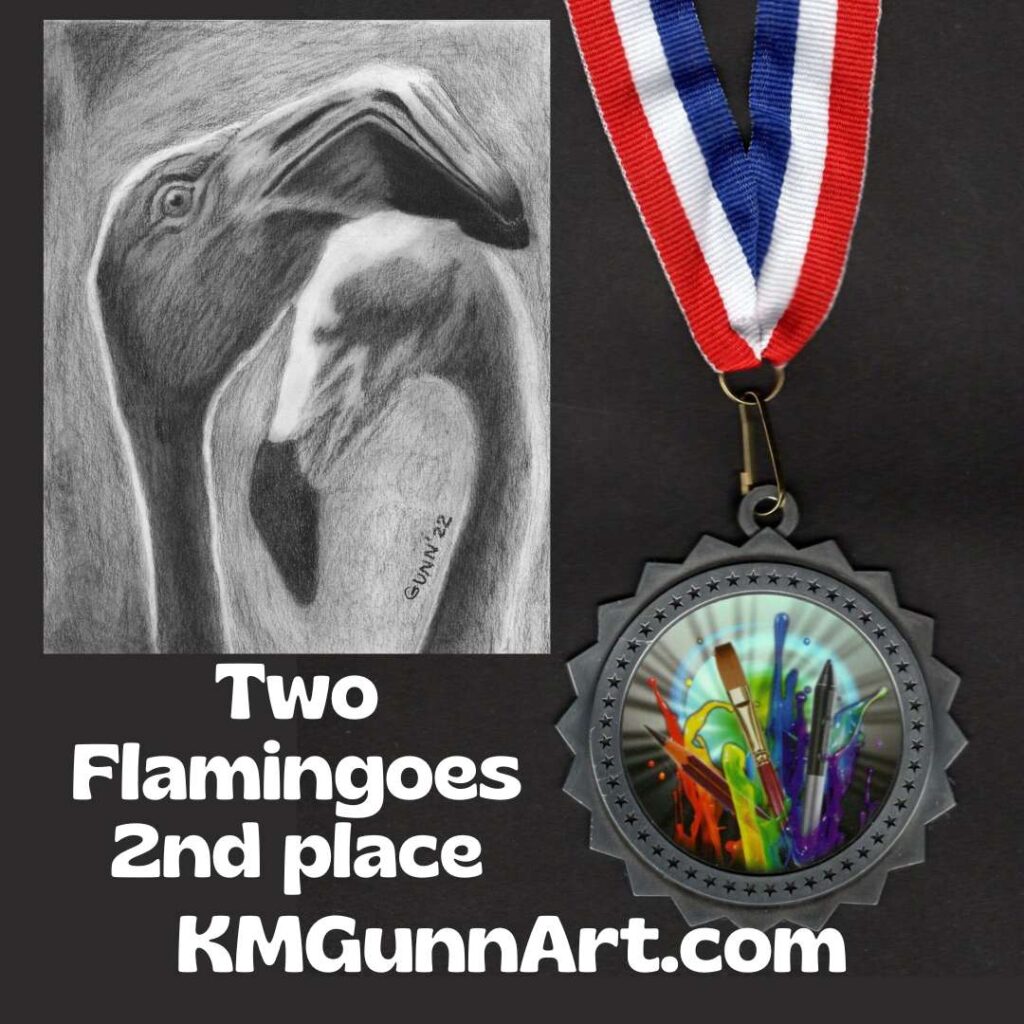 Last year, I took first place in the monochromatic drawing category with my white pencil on black paper Dew on a Calla Lily. This year, both Twitter and Facebook voted that I should enter this charcoal drawing of Two Flamingoes, and it took second place. Not bad, and it really IS an unexpected medium for this subject. Most people who draw or paint flamingoes will do so in color.
Want the original drawing to put on display as award-winning artwork? It's a small 8 by 10 inches, so it will fit into small spaces if need be. If you have a need or strong desire to go BIG, you can always order a larger art print from Pixels. I don't currently have it up at RedBubble, but may add it in if people ask.
Second place award in oil painting with an oil pastel
Now we get to the award I feel the most pride when I think about it. This would be taking "just" second place in the oil painting division – but with an oil pastel picture! Seriously. I figure the artists who invest in the materials for oil painting and the time involved (because it takes quite a while to dry!) do so when they are confident in their artist skill. Or maybe it's just me who has hesitated so long. Going up against oil paint on canvas and still winning a medal with my oil pastel on paper feels good.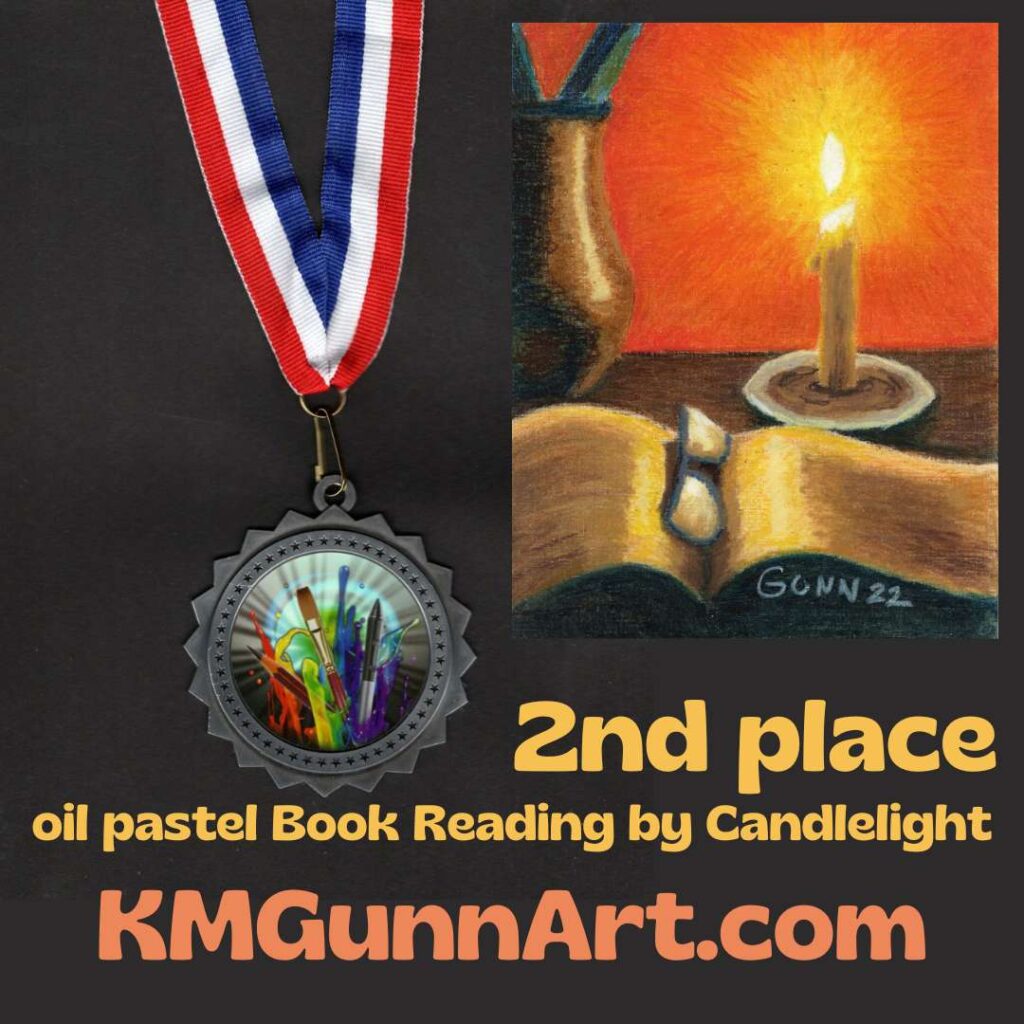 If you want the 11 by 14 inch original artwork, I recommend buying it sooner rather than later. My friend Keashia loves this piece, and will be debating anew whether she wants to buy it or not. Want a larger art print? Head to my Pixels shop for those (or a jigsaw puzzle). This image is definitely in my RedBubble shop for apparel and accessories.
Weekly email newsletter starting
If y'all have read down this far, you might as well fill in the little form at the bottom of this post for email subscription and a weekly newsletter (especially for those weeks I don't get a new post finished!) that I will be sending out on Fridays. It's been on my to-do list for months, but now it is in place!
Third virtual art walk this Friday
We're having so much fun doing these virtual art walks, and will do another this weekend. I of course will be posting on Friday so I can do a new Feature Friday. We have at least one new artist playing, so check back in.