It's Friday once again, and this week I grew a brain and started this post the day before, in the spirit of the old army saying: "Proper planning prevents poor performance." Soldiers being the eloquent creatures we've been since the dawn of time, call this "the five Ps," although most would add in a sixth word starting with P that is not family-friendly. Last Friday I failed to plan, and when the thunderstorms rolled in about midmorning to mess with our satellite internet, I had nothing ready to go. Once bitten, twice shy … at least for now. With two weeks' worth of links to share, let's get this round-up started!
Blog links for your weekend reading
Links to art supplies
For a few years now, I have been splitting my art supply budget between Jerry's Artarama and Dick Blick art supplies, because each carries some items I like that the other does not. Jerry's does not have an affiliate program … but Blick does! I signed up this week, and am now an affiliate as well as a customer, which means if you use my links to purchase something from their site, I will earn a small commission at no extra cost to you. Personally, I love it when they run the eCard sales, where you get an eCard code in a certain amount that arrives in your inbox two weeks after you've ordered. I still have to figure out where all the promo items like images and banners are in the platform, but I figured I would make a general announcement. I'll be putting together a page with my personal recommendations, because I do indeed have my favorites from them. If the link looks funny to you, it's because it runs through a tracking system. Both Blick and the platform have a good reputation online.
Obligatory eye candy snapshots
This being a blog all about my visual art means I need to have at least one image in the post, even my link round-ups. I thought this week I would feature the squash plant(s) that have grown out of the compost heap that are still going strong despite the heat of summer settling in (and wreaking havoc on my poor Swiss chard plants). This started out back in the autumn, October or November, when I bought some picturesque produce to get reference photos for my still life drawings. The butternut squash got wet and started to mildew, so we tossed it out on the compost heap to let it continue its breakdown. Usually, I don't expect seeds from a grocery store-bought vegetables to sprout since I figure they are picked early to keep them from getting too bruised in transit. The seeds sprouted, and they must be dreaming of world domination at this point.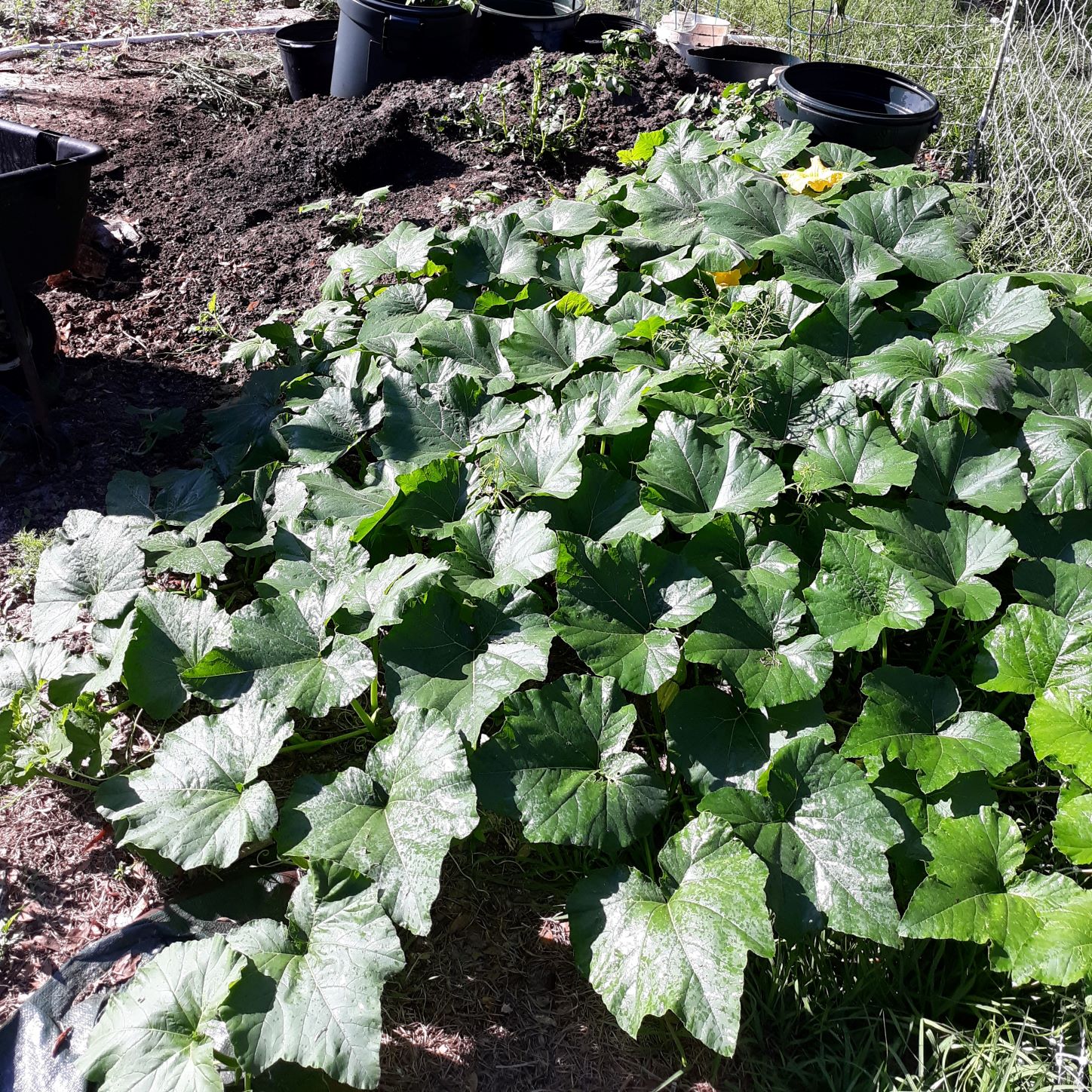 Just an FYI: this particular snapshot is from a week or so ago, and the plants are colonizing the open area on the other side of the fence con mucho gusto. My husband has needed to trim some off to keep the footpath to the pumphouse and water spigot for the pig pen clear, because squash vines can be a bit tangle-foot-ish.
We've been trying to get nice snapshots of the flowers I can use as reference photos to paint, and I got to say it is difficult to get nice photos in the bright morning sun here in Florida, especially on the humid mornings when there are dew drops everywhere reflecting the sunlight. I still intend to keep trying for that one decent photo of a big honkin' squash flower – seriously, the one that opened yesterday was bigger across than my hand. I also need to start bringing some of the squashes in for a nice picturesque pile. There will also be bean blossom and bean group snapshots soon as our summer garden beans are budding.
I still have one more daisy piece from the three day challenge over last weekend, plus a daisy drawing I forgot to post on the blog from last summer that may interest you. I also have the final painting from my candle light series a couple weeks ago that I just have not gotten around to posting. Then it will be time for a new art challenge – if I don't see one that I like, I'll just post one here and see who wants to play along with me.
That's pretty much all I have for today, though I will leave y'all with this market research question: When you have bought artwork (original or prints) what was/were your main motivation(s)? Inquiring artists want to hear!