Second in my still life watercolor paintings series I am doing as part of a short art challenge is this unimaginatively titled work, Bananas and Oranges. As previously mentioned, the challenge was to do three new artworks in three days, all focused on the theme of banana(s). Since I had considered doing some bananas as still life subjects, I jumped on it with my watercolor paints at the ready.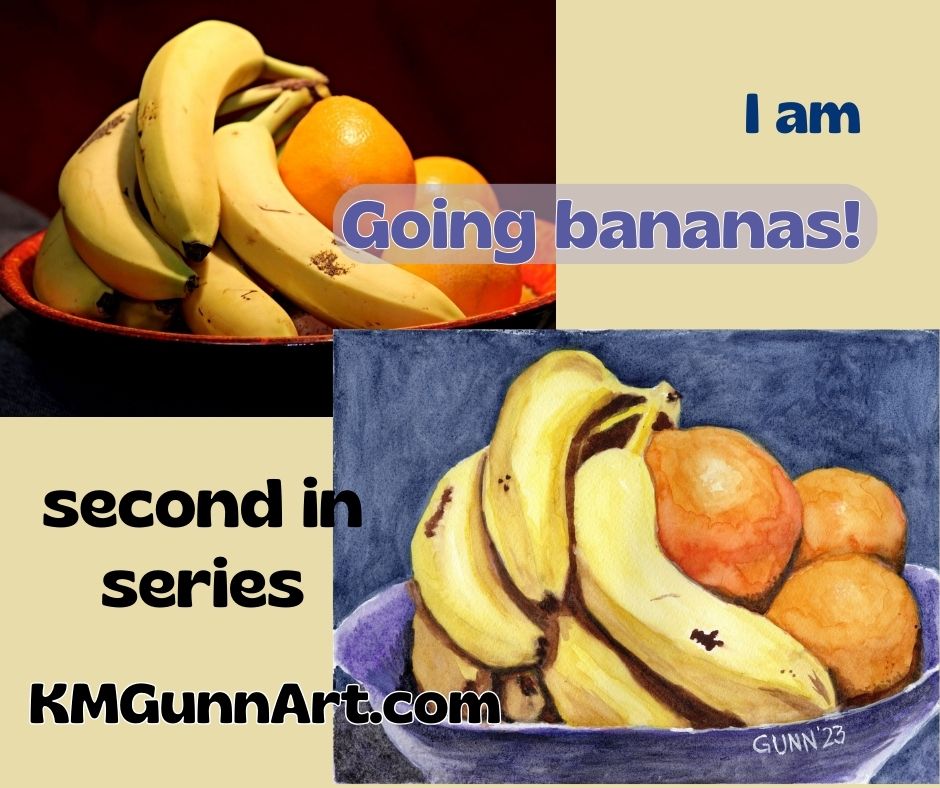 Using my artistic license to make the still life more traditional
While I was able to find a reference photo to work from, I was much less impressed with the color choices the original photographer made. While I loved the dark background and shadowed surface, I detest the red bowl. It is jarring to my eye, especially next to the oranges in the bowl. So, I needed to pick a different color for that bowl. Should I make it white (very traditional) or a complementary color like purple or blue? Since I was not feeling a white bowl, I decided to make the bowl one complementary color with the background being the other.
In-progress scans
This piece didn't flow as easily as the first one did, but after I blocked out the sketch, transferred it to watercolor paper, and got the background painted a lovely deep Prussian blue – and got scans of those two steps – I slipped into "the art zone" and didn't stop until suddenly it was finished. I really did mean to get more scans of the stages! It's just that once I am in the zone, I don't think of anything else but the work in front of me.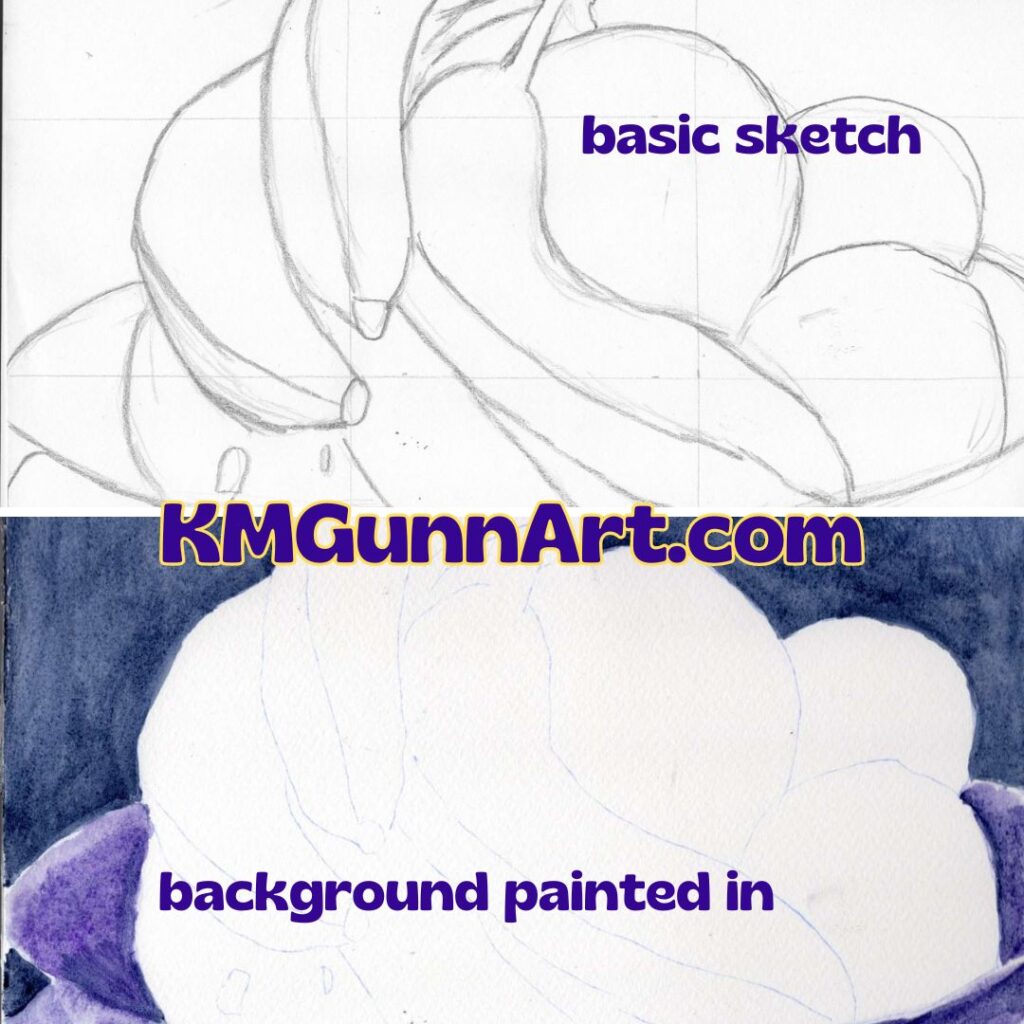 Painting the bananas and oranges
Contrary to most watercolorists, I like to start off with the darkest shadows. I know the conventional wisdom says to work from light to dark, and I have certainly tried that the first couple years. This series of paintings, I decided to try doing it "backwards." Long story short – I prefer it. It even helps me get my shadows deep enough. Since this was basically a repeat of the subject matter, I just used the same colors as the day before. Once again, I was pleased with the color.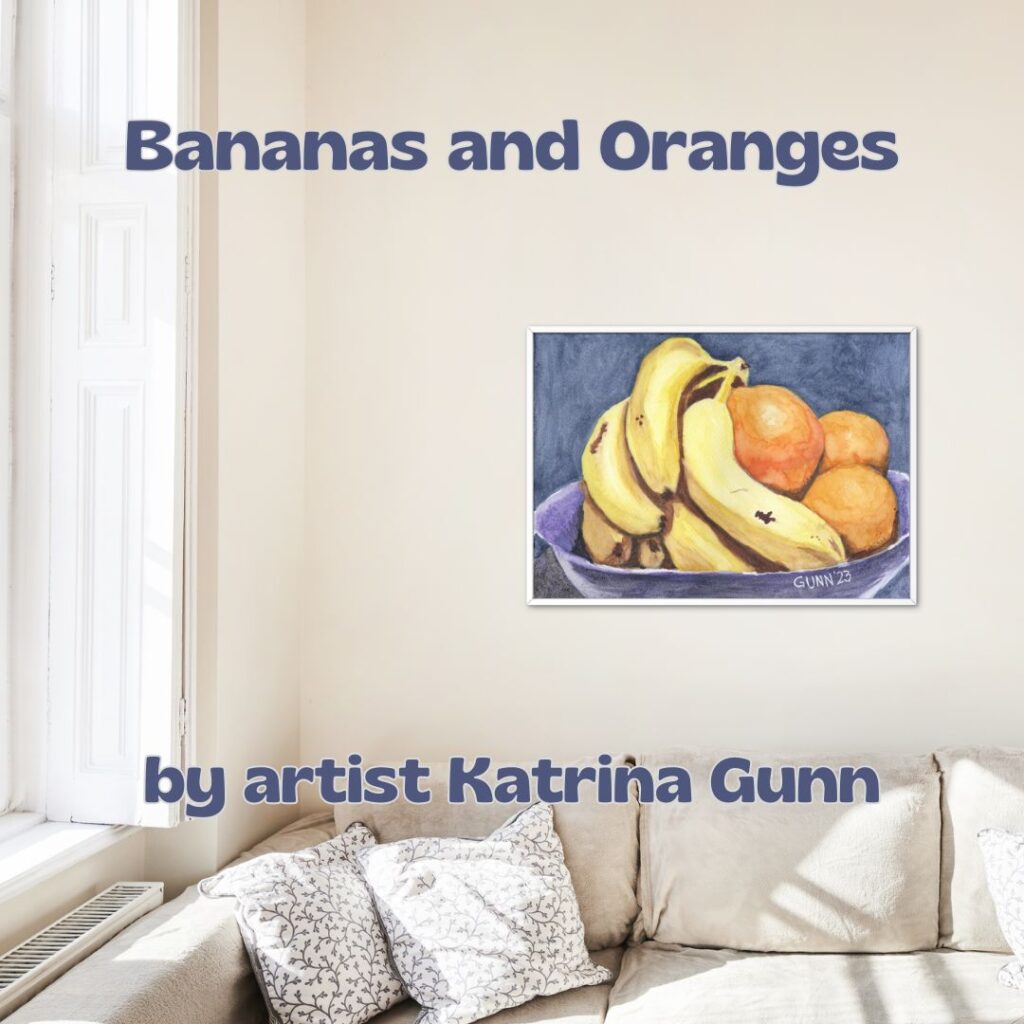 Links to purchase the original painting and art prints
How can you purchase this artwork? If you have the right space for the 9 by 12 inch original watercolor (on paper) painting, get that through my gallery at Daily PaintWorks. If you want larger (or even smaller) sized prints, you can order from 8 by 6 inch all the way up to 45 by 60 inches from Pixels here. For my mother and sister, who prefer to wear my art, there are several apparel options along with home accessories with this image printed on them in my RedBubble shop.