I have started a new art challenge at the usual forum, where the challenge mastermind Abbie has been running a series of three-day challenges which started with the "fire" challenge, then moved to two challenges that had themes that just aren't in my repertoire, bedroom items and aircraft. When I saw the theme for this challenge, I knew I wanted to to do it- daisies. I have a folder of reference photos on my computer marked daisies, not to mention a collection of more ref photos over on Pixabay – which reminds me: I really ought to start linking to the original photos I base my paintings and drawings on so y'all can see how I interpret them since I do not actually copy the reference photos.
This will also address a second challenge from here on the blog, the blind contour drawing challenge I linked to in last week's Feature Friday, so this first piece covers both. I pulled out my almost-full sketchbook that has served me so well these past two years, then grabbed three oil pastels (because I am still in a bit of an oil pastel mood) and set up my inspiration: an unfinished acrylic painting that has been waiting for its feature in an "On the Easel" post here, or for me to feel like finishing it. I'll likely work on it today when the storms roll in and knock out our satellite internet connection (like yesterday). I didn't close my eyes, but I didn't look at my sketch – I looked at this:
I had started this so enthusiastically a while back, then had to stop working on it to put critters up or something to do with the critters, I honestly don't remember exactly why, but I put it on the easel the other week and my mother-in-law saw it last time she came down and remarked how much she likes it so far. (Note ref photo for this is here on Pixabay, for those curious.)
Blind contour daisy drawing
Now, for the blind contour reveal. I'll say upfront that it isn't bad for not looking at it – I tend to have a good spatial memory, and if you tilt your head to the side and maybe squint it looks like the unfinished painting on the easel.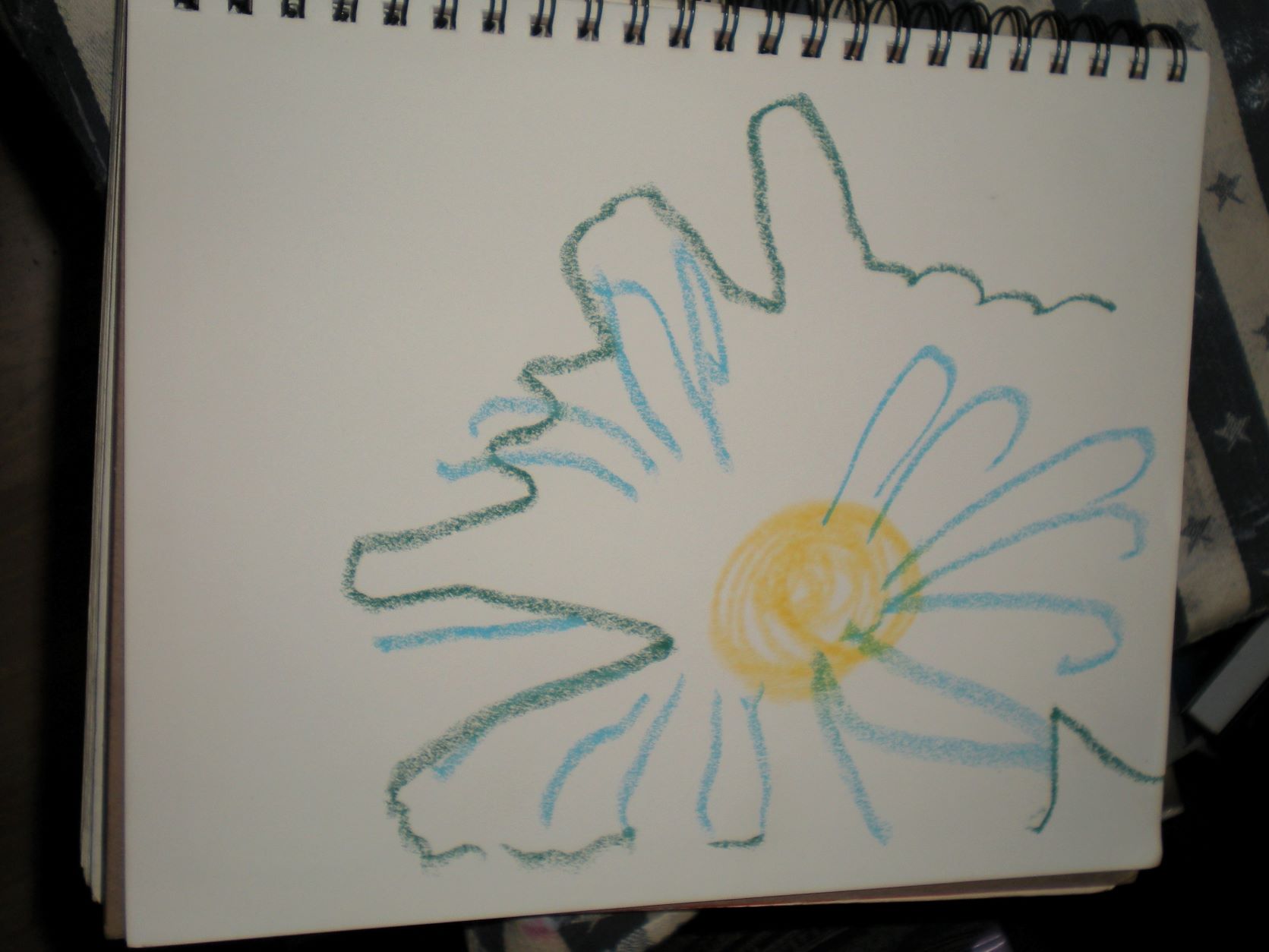 Blind contour drawings can run the range from abstract to primitive to just downright funny-looking, and this one fits in there somewhere. It's a fun little exercise, and often provokes laughter, which is a good way to start out for a day's art session. Art doesn't always need to be so serious. For those who missed it last week, Siena Blue came up with this idea and will be posting links to all the participants on the 15th for an old-fashion blog hop/link party (which is another fun thing we used to do back in the day that I would love to see make a comeback).
So, who else is brave enough to post up their blind contour drawings?