I finished up this close-up watercolor painting of a yellow rose this evening. When it was dry enough, I showed it to hubby who immediately commented, "Wow, electric!"  That's where the electric part of this painting's name comes from.  Hubby says the combination of yellow with purple (or violet, if you prefer) just pops in a beautiful way.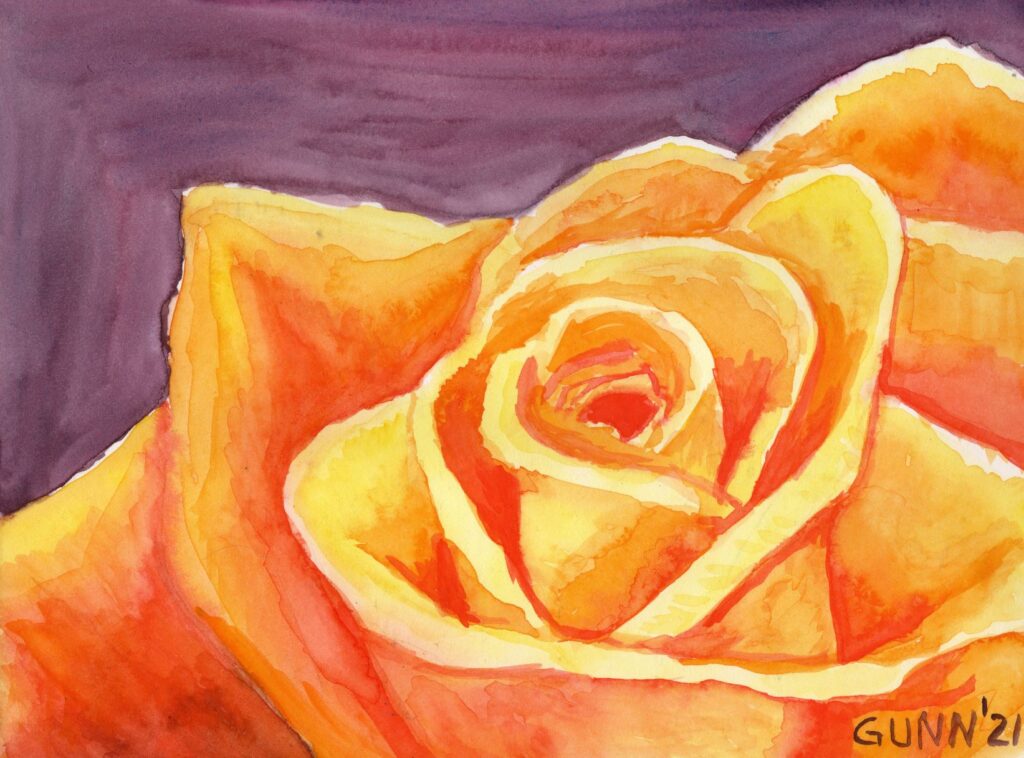 Original is 12 by 9 inch watercolor, sealed with Dorland's wax, and I will take it to El Amigo Restaurant in Crescent City for display locally, ands also listed for sale at Daily Paintworks for those outside the local area..  Prints in larger and smaller sizes are available at my Pixels store, and accessories at my RedBubble store.
I should mention that I saved the contour sketch for future artwork, probably in different media just because I am very pleased with how well the simple line drawing captured the shape and layout of the petals.
Another reaction to the painting
Along with my husband's reaction to it as soon as it was dry, Elizabeth at El Amigo was amazed when I told her I painted it with watercolor.
"Wait, THAT is watercolor?! It's so bright!" was her remark.
I told her I found a brand of paint from South Korea (Mijello Mission Gold, for those curious) that had wonderfully vibrant colors. Apparently, the general perception is that watercolor paintings have delicate, light color. Or perhaps people think of those student sets that have low pigment and really terrible brushes. Either way, I love bold and vivid colors most of the time, and will work to achieve them in whichever media I use.
(Update: she had about the same reaction when I brought in my Flapping Flamingo watercolor painting later. Also, she was surprised at the vibrancy of color in my oil pastel Blooming Pink Rose, because of the confusion about what the word pastel actually means.)