Y'all recall last year when I placed first in two of the three categories I entered in the regional VA healthcare-sponsored creative arts festival? I am entering again, but this year picking the artwork to enter seemed much more difficult, given I can only enter three pieces again this year. I work in six media categories, not including mixed, and have made multiple pieces in most of those categories in the past year. So I took to Facebook and even Twitter to ask for opinions on which pieces I ought to put in the competition. This actually did not help as much as I hoped.
Oil pastel artwork
Oil pastels are not judged in the pastel category for this competition, but against oil painting as they define the category to include oil paint, oil sticks (which I have yet to try) and oil pastel. Basically, they want anything that includes pigment with some form of oil to fix it to a surface, which is not limited to canvas either. I felt my two best pieces from the past year are my Sunset Over the Hayfield landscape and my candle still life, Book Reading by Candlelight.
Folks on Twitter preferred the hayfield, while folks on Facebook preferred Candlelight, and when added together the votes were just about a dead heat. Any wonder why I asked for help deciding? In the end, I stopped to think (while milking goats) about the category and potential competition, and went with Candlelight because a bit of the textured paper shows in Hayfield, which might be enough to knock my piece down compared to the more traditional paintings.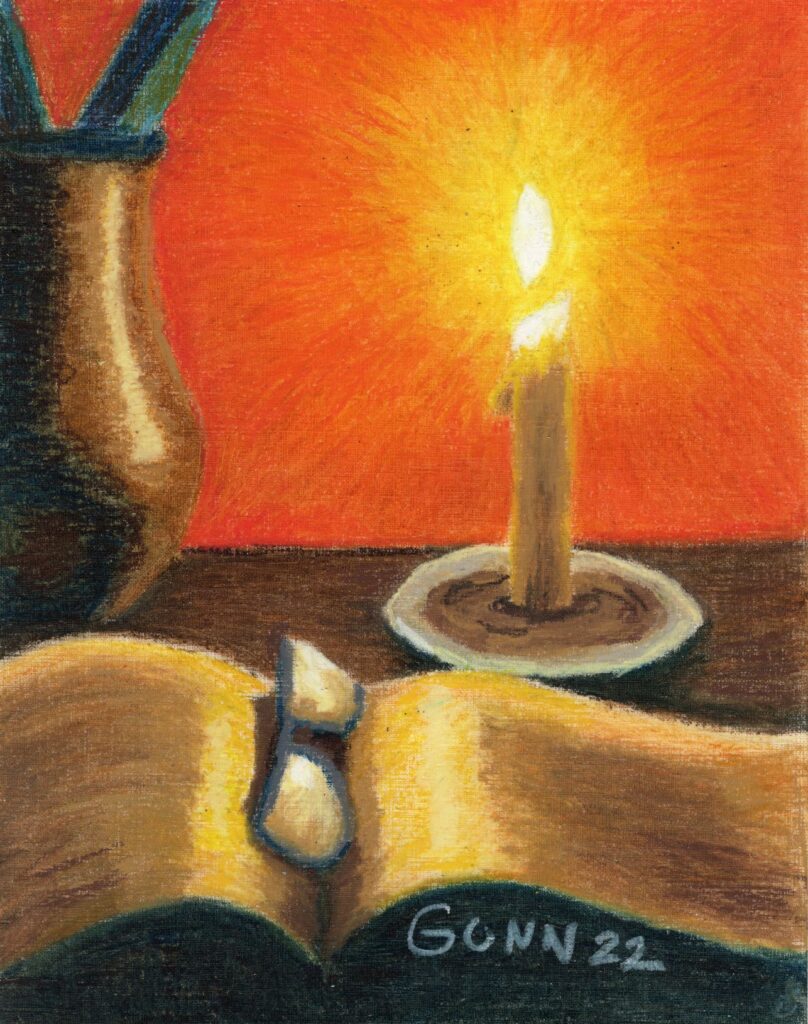 Picking a watercolor painting
For this category, it was pretty easy for me. I simply love how my Pumpkin Close-Up came out last autumn. Truth be told, I really have not made many watercolor paintings over the past year, and this particular pumpkin one is my favorite of the three I did last fall (even though my mom just loves my Jack O'Lantern).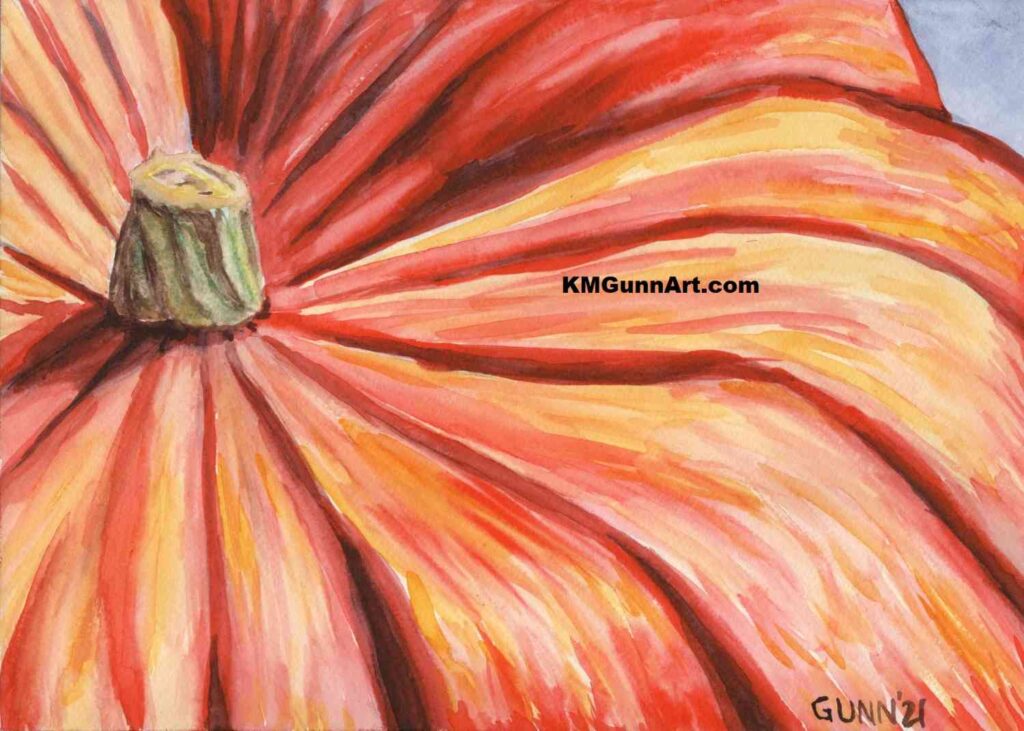 Picking a charcoal drawing
If y'all have been reading since the beginning of the year, you will know I was on a major charcoal drawing kick that started prior to New Year's Day and continued through the spring goat kid bottling season. I made quite a few charcoal drawings, both traditional black and the tinted charcoal I am still experimenting with.
I managed to get my short list down to three, then once again asked on Facebook and Twitter which I ought to enter. The results surprised me. Personally, I had been thinking to enter my Apples 3 still life, but my husband said he really likes my Two Flamingoes. Meanwhile, my Single White Rose (in the same post as the flamingoes) tends to get positive reactions from folks. Both Twitter and Facebook enthusiastically said I should enter the flamingoes, though the rose was in second. What sealed the deal for me was the comments about how flamingoes usually aren't depicted in black and white, and that I nailed the expression on the front bird's face.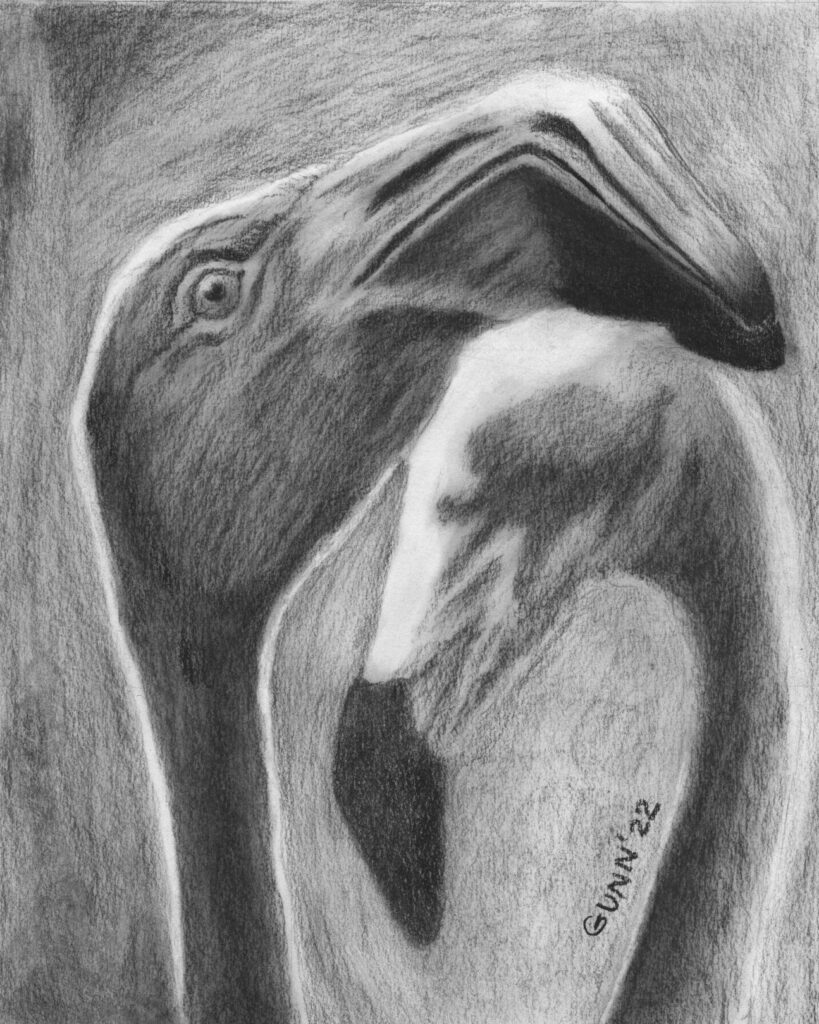 So, there we have it: my three entries to this year's creative arts festival. I sent them off this morning, because today is the deadline. For whatever reason, I seem to always wait until the last day to enter. Perhaps it ties in with my usual answer when asked what I think my best piece of art is. My answer is always, "The next one."
Update with results
(December) Results are finally back, and that required its own post because all three placed!