Alright, fellow procrastinators: It is now the proverbial "last minute" as far as ordering custom greeting cards to send out for the winter holiday season. It does not matter if you are celebrating Christmas, Hanukah, Yule, Kwanza, or just the generic Festivus – it's getting to be crunch time for ordering custom gifts or greeting cards if you want to receive them in time to send them back out! On my end, it's crunch time for creating and posting Christmas artwork. That means I need to post up some digital artwork for the holidays since I procrastinated too long on the painting I started (in August).
Custom artwork for the holidays
I did post up a handful of hand drawn and hand painted artwork last year, and those are all still available. See my Winter Snowman, the two matching ornaments, and (my personal favorite) the colored pencil Christmas Candle for purchase links. My intent was to add to the collection, but I really do have problems getting into the holiday spirit in the summer. I guess I should not move to the southern hemisphere any time soon. Instead, I suppose I'll just do my usual "one holiday at a time!" that has been my mantra for so many years, and promote this year's Christmas and Yule artwork next summer. The other option is:
Digital art for the holidays
Honestly, if you have the patience to fine tune your text prompts and modifiers, then digital art is the quick fix. Once you have zeroed in on a good target prompt phrase, then you can have the software churn out multiple versions and simply choose the ones that have the right look and correct object shapes. I did some more playing and tweaking over the weekend, and here is the cream of the crop, so to speak.
Decorated Christmas Tree digital artwork
In a way, this one was both the easiest and the most finicky to get a version that didn't have me saying, "It's almost good except for …" I have a virtual folder at the NightCafe site with a good-size bunch of also-rans, but this one was one of the first and also one of the prettiest images of a fully decorated Christmas tree. I did need to crop off the sides, but the result fits the 8:10 ratio perfectly.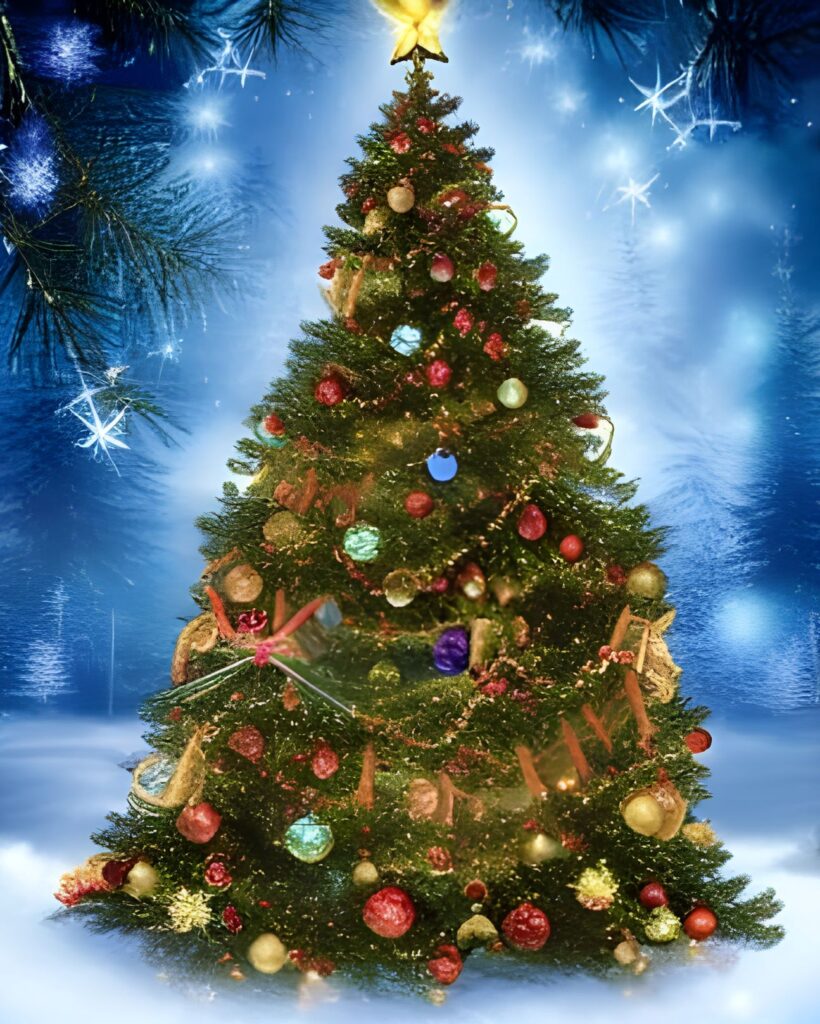 You can order this image as a fine art print, or printed on a greeting card, puzzle (oh yeah, this one makes a great puzzle!) or home decor items at my Pixels store or at my RedBubble shop. Being digital art, there is no original to buy, but I may be inspired to try my brush at it in the darker days ahead.
Victorian Christmas Scene digital image
This one has a bit of a backstory to it. What I was attempting to get was some kind of image of a species of aloe plant often called a century plant with Christmas ornaments hung on the wide, flat leaves. It's something you see down here in Florida, since southern pine trees are tall and sparse and very fast-growing (which makes them ideal for the lumber industry). There are a couple houses within a few miles of me that do this on a semi-regular basis, but I have never stopped and snapped a photo of this to use as a reference for a painting. Next time those houses decorate that way, I will certainly get a snapshot – even if it isn't good enough to post here.
So, I used the text prompt "century aloe Christmas decorations," and the software had no idea what it was supposed to display. Along with three that were just weird, I had this image, which I call Victorian Christmas Scene. It looks very quaint, like it ought to be a color plate in an edition of Charles Dickens' A Christmas Carol. Until, that is, you get a closer look at the greenery. Yup, some of that greenery is aloe plants.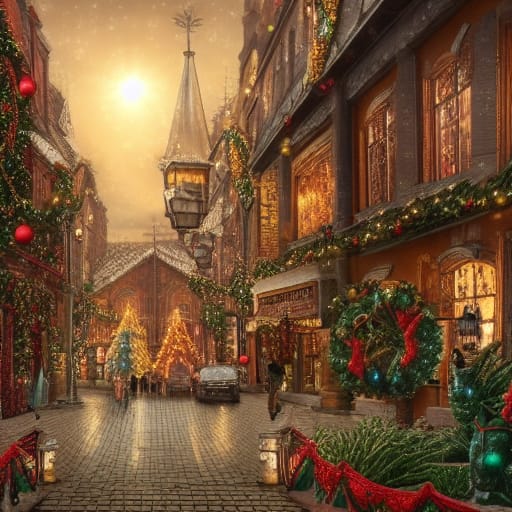 The proportions are a little off on some things, but overall it makes a very pleasant picture. The sky certainly looks like a winter afternoon, and all the lights and garlands lend a festive air to it, even though there are no people on the street at all. The bunch of aloe-like plant in the lower right corner aren't obvious until you are putting it together as a jigsaw puzzle – which I am doing digitally since I have three cats in the house. For fun, here is a screenshot of this as a puzzle.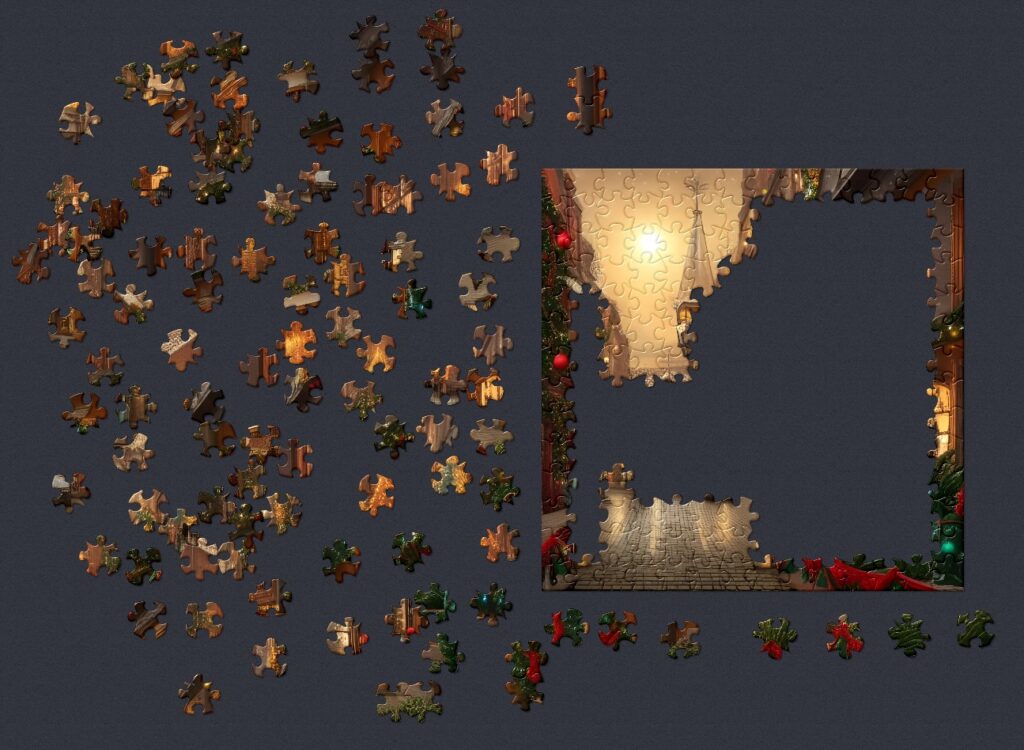 Like the others, you can order this image as an art print, a puzzle, apparel, or home dec item either at my Pixels shop or at my RedBubble shop. Like my other digital creations, there is no hardcopy original, and I really don't see myself sitting down and drawing or painting this one. It's a pretty street scene, but cityscapes just don't appeal to me.
Red Poinsettias, the Christmas flower
Y'all had to know I'd get to this one eventually. It's time for some red poinsettias, the official flower of Christmas. There are many reason why this flower is so popular, but the main one is all about the color combination of cheery red petals with yellow centers (stamen?) framed by the rich green leaves. Add in a strand of Christmas lights, and you get my next piece, unoriginally titled Red Poinsettias.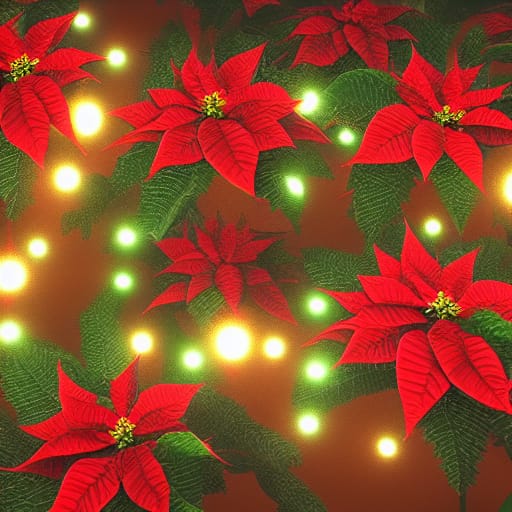 My husband chose this one of the two poinsettias images that turned out well, saying the lights and softer focus look goes better with the other two. "It's like a visual theme," he explained. I'll roll with it, since I asked his opinion because I was having trouble choosing. He's an artist also! Links to buy prints and home accessories at my Pixels shop and for a selection of apparel as well as more accessories at my RedBubble shop.
More digital artwork to come!
I am still not all the way through the categories from just my first two weeks of playing with the program that generates these images. I have a lot of flower bouquet images, and wanted to spotlight those in their own post. It looks like there will be at least two flower posts now, as this past weekend I hit upon a combination of modifiers that I really like. I'll keep working on those posts, as well as working on refining my text prompts to see if I can get even better images, but I really wanted to get these up for my fellow procrastinators to order those custom Christmas cards … or you'll have to wait until next year unless your family and friends are used to getting holiday cards in January.