A vibrant red rose in bloom against a grey-blue background, with the brilliant green of the leaves and stem catching the light.  Done in oil pastel on an 11 by 14 inch canvas panel, this was only my second big oil pastel piece.  The oil pastel on the canvas makes an interesting optical effect, and gives it almost a 3D look.
The Red Rose in oil pastel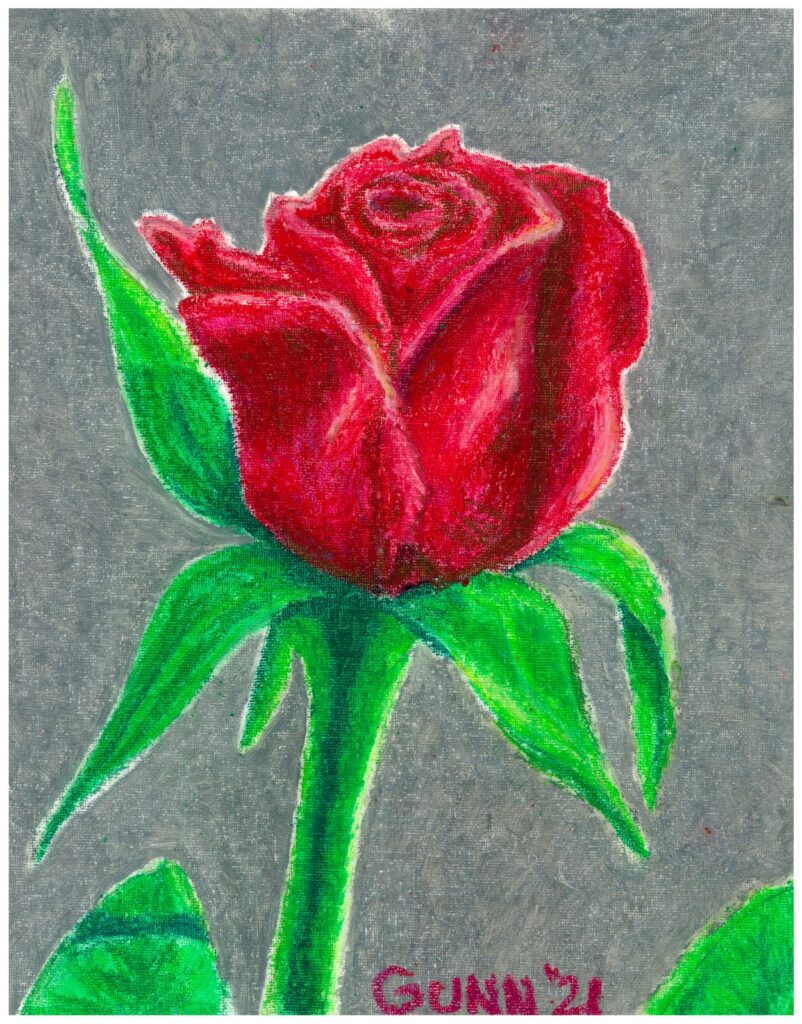 Links to purchase this artwork
Original is available, locally or through Daily PaintWorks which uses PayPal for the transaction.  Prints in various different sizes can be ordered through my Pixels store, while accessories and swag can be found at my RedBubble store.
Plans for more roses worked in oil pastel
I really like the overall effect of the rose in oil pastel, but had not yet worked out how to get the colors close enough to avoid the white outline. While I plan to do more red roses in the oil pastel medium, I would like to do them larger … like maybe 18 x 24 inches, as I now have the panels. The downside of working so big will be that I won't be able to scan them for prints as my scanner only goes up to 11 x 17 inches. I also have 12 x 16 inch oil primed paper, which I can scan with only half on inch off (which will make the original different than prints).
Of course, there are many more colors of roses to draw and paint as well. I personally love pink and yellow roses, even more so than the red ones. There is also the challenge of doing a white rose in color, as I've only done those in black and white.