Looking through what I have uploaded to my Pixels site, I realize I am missing a blog post about a favorite charcoal drawing. Then I realized the scan I had uploaded that was (past tense now) available was from my old scanner, and that needed fixing. So, I rescanned the page from my sketchbook and replaced the old, smaller file size scan, and now I can proudly say you can get a print of this either a little smaller or a whole lot larger … like 45 by 60 inch at the biggest. That's even bigger than my largest canvas right now! So without further ado, here is one of my favorite pages from my sketchbook, a monarch butterfly on a coneflower, rendered in charcoal.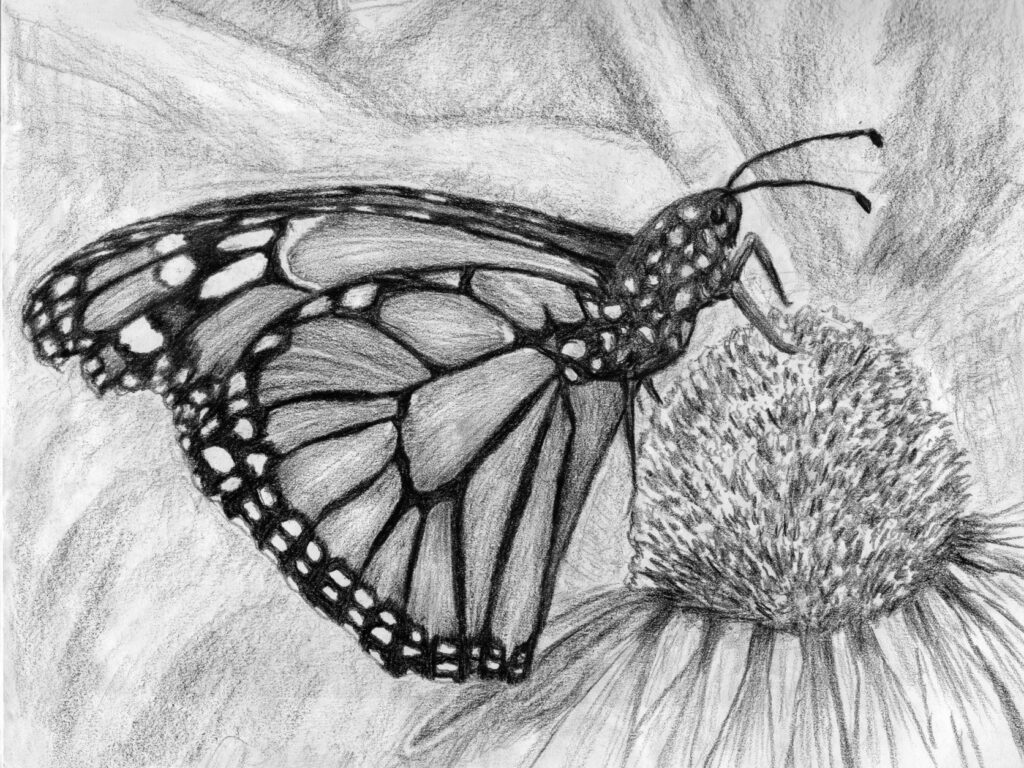 In other news, there is a county fair this year, after a two-year hiatus, and I remembered in time to check for when they are accepting entries for the art category. It is Thursday evening and Friday morning, and I have that time block free. I will be taking up two works, the two first place winners from the VA Healthcare show. I still love how my Flamingo in Rippled Water turned out, and when I showed these two pieces to my neighbor who stopped by yesterday, he told me if it doesn't get bought at the fair to come to him because he really wants my Dew on a Calla Lily drawing. Actually, he tried to persuade me to give it to there on the spot, but I am used to that routine by now, after living just down the road from him for nine years now.
Final bit is you may notice I have added an old style blog roll in the sidebar. Right now it is all art photographers, but I am hoping to find a drawing and painting blogger to also collaborate with soon. I blogged back in the days before social media was even a thing, and remember not only the sense of camaraderie we had, but also the fun things we used to do to help each other like link roundups, blog hops, and blog carnivals. Once I get through the busy part of spring, it will be, "Game ON!" with those ideas, so something to look forward to once the yellow flies come out of the swamp.