I had plans for this past week, which included participating in a short three-day art challenge with the theme "fire," and had a virtual "seat" at another blogging symposium scheduled to start on Wednesday, along with my usual posts here.
A good start: Lavender Candles still life
Monday started off as planned, and even though I had an appointment and errands to run up in Palatka, I still came home and worked up my first piece for the art challenge, which I call Lavender Scented Candles. I often like to work on a theme-within-a-theme for these short art challenges, and this time was no different with my narrower theme being lighted candles. I had chosen three (and only three, this time) reference photos, and the only question I had Monday afternoon was which I thought I could do in a shorter time frame. I decided to work in oil pastel for the first one, and found a photo of two lit round candles on a tray, looking like those lovely lavender scented candles I so adore. (Lavender scent tends to evoke a relaxed feeling in most people.) Only two layers and a couple breaks to stretch my fingers, and it was time to put a coat of ModPodge over it so I could scan it, since oil pastel will indeed smear all over the scanner glass if not sealed with something, and ModPodge dries relatively quickly and adheres to the oil pastel in previous pieces.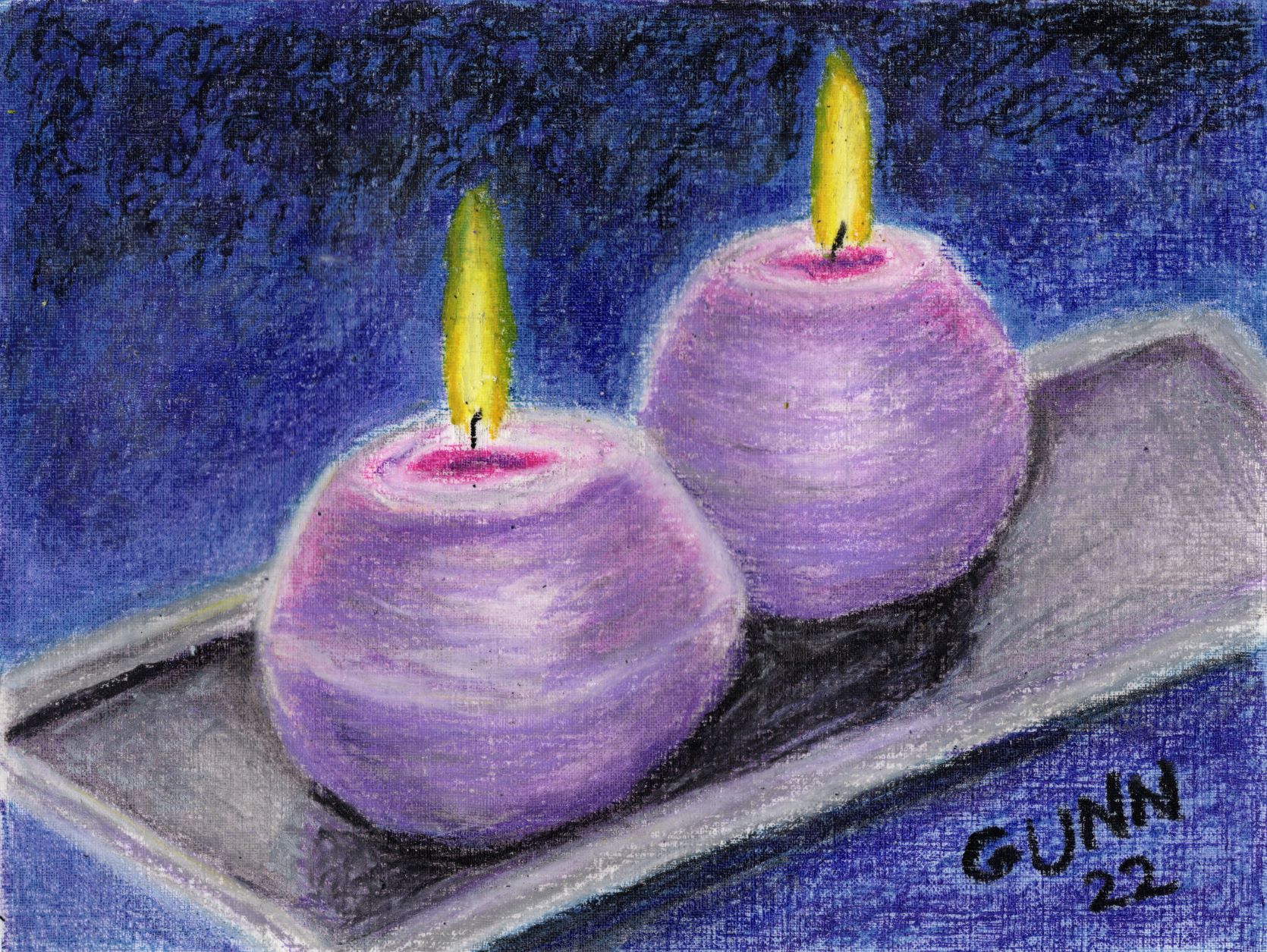 I didn't build up enough layers to cover the laid pattern on the paper, partly because I like being able to see the texture and partly because I was working to finish within the time limit of the challenge, which is one piece both started and finished in a single day. Prints are available at my Pixels store, along with a few accessories and home decor items … and of course, puzzles for the adventurous. If I had a cat-free zone, I'd totally try one of these puzzles. For the folks who like the swag over at RedBubble, here's your link with a note that RB has added some new items like caps, pet blankets and mats, and even a pet bandana, which is triangle and doesn't seem to go well with most of my artwork. If you want the original, and are not local to me, you can purchase it through Daily PaintWorks, which uses PayPal although now you do not need a PP account to use it. All things considered, Monday went smoothy for me, even though I had to stay up an extra half hour to wait for the ModPodge coat to dry enough to scan it and then upload it.
Needing to improvise: stylized Holiday Hope Candle
Y'all have probably already guessed Tuesday didn't go quite so smoothly. I gessoed a 9 by 12 inch canvas with my black gesso, and lightly sketched out the main components of my planned painting with a hard graphite pencil, then began to paint with my acrylics … and got to a point where it felt like no matter what I was doing, I just could not seem to paint my way out of the Ugly Stage. Right before we went out to round up the various critters, feed them and put them up for the night, I had a stroke of inspiration. When I came back in, I pulled out a small 6 by 8 inch canvas pad that was already primed for both acrylic and oil paint, and started painting a very stylized red candle with no background other than the white primer. Less than half an hour later, I had my second piece completed and dry enough to scan and upload, and maybe even get to bed at the normal time. I call it Holiday Hope Candle, and did no shading. Prints and greeting cards are available through my Pixels store, and the RedBubble link for apparel and accessories is here. I have plans for the original now, but if you'd like to commission another one, just let me know.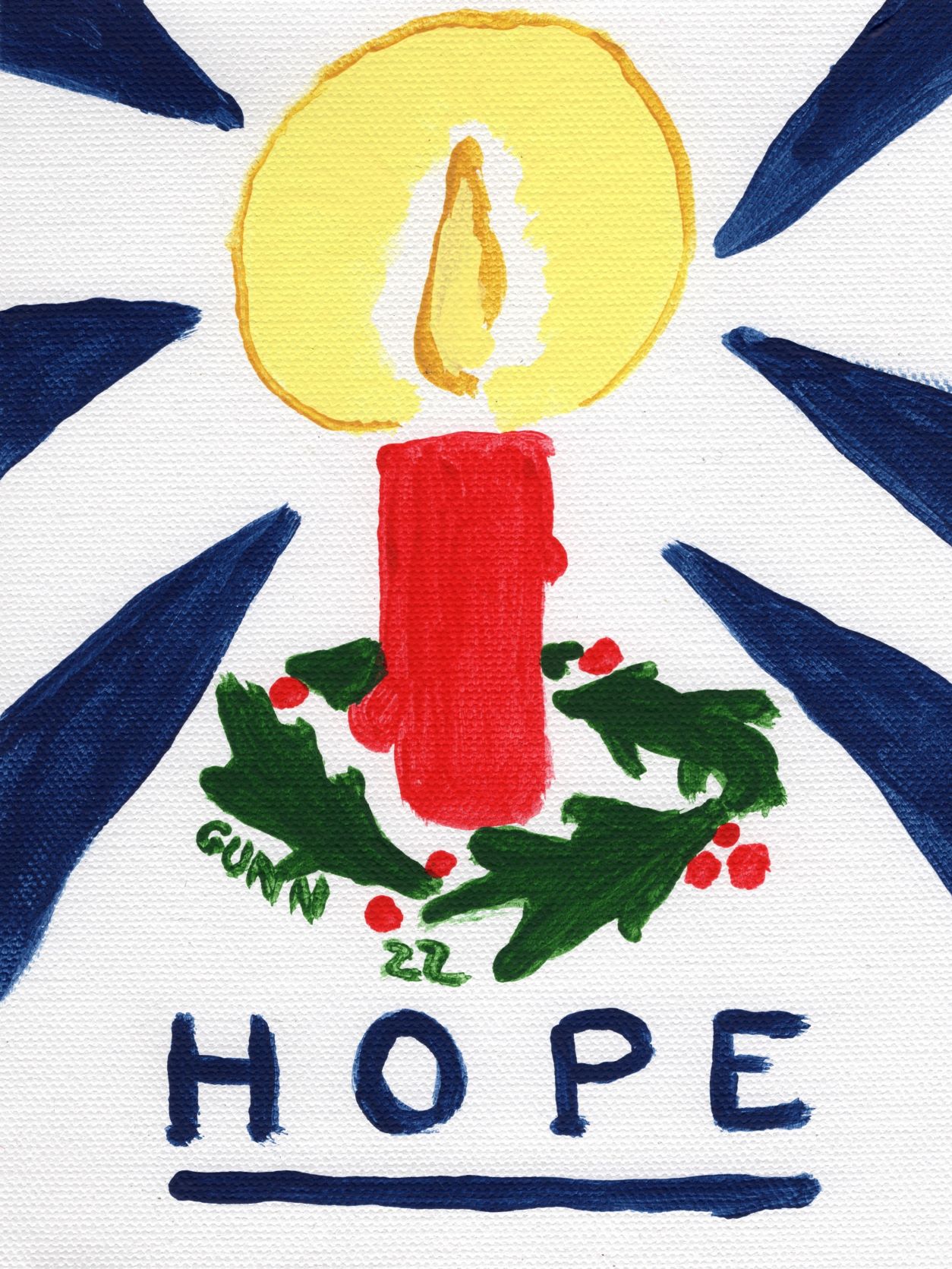 And then things got weird
This is the part where my week went all sideways on me. We had some internet troubles on Tuesday, but it was episodic and came back up, so we didn't think much of it … until Wednesday morning when the satellite connection was completely down with no weather-related excuse for it. Hubby got on his touchscreen phone to see if there was anything about the outage in local media. He found an announcement of an upgrade for our area, then we had to figure out how to force the company's automated phone tree to connect us with a real person in tech support to find out whether our modem was compatible with this announced upgrade. Eventually, we navigated that obstacle, and tech support said no, our reliable old modem (purchased in 2013 when we moved here) was not compatible with the upgraded system and we needed a new one, and she could schedule a contractor to come out Thursday afternoon at the earliest. I had planned to draw or paint my third piece in my candlelight series while listening to another blogging symposium on Wednesday. So much for that.
So we went through all day Wednesday and half of Thursday with absolutely no internet. Zip, zilch, nada. The contractor came out on time, got right to work, and then made sure everything worked before he left, all in a professional and competent manner. Then it was a matter of trying to get caught up on whatever we missed. I am still not caught up on reading all my email, though I did see that the blogging symposium had been delayed due to a storm knocking out the power in the city of the person putting it on, so I was not the only person having technical difficulties this week.
Since I knew I would not be able to upload anything on Wednesday, I did not do my third piece. I was frustrated and out of sorts, so hubby put on an audio book to entertain us and I tried to play video games while listening and providing a lap for my cats. This seems to be a bad habit I do, giving up and walking away (sometimes literally) when I know it won't get the result I desire. I need to work on this, and I think I will do that this weekend and finish my candlelight challenge even though the deadline has passed. I had been saving the best reference photo for last, and while I haven't decided whether to do it in oil pastel or watercolor, I would like to have a third one for the series.
Feature Friday ought to return next week – some of those emails I have not read yet are from the blogs I read, and rather than try to rush anything, I'll just get back on track and back in the saddle next week. Who knows – I may have a new and appropriate drawing by then as well.